Diplomatic Council
Body
The Diplomatic Council (DC) was established as a Global Think Tank with the objective to serve as a bridge between diplomacy, economy and society. Members committed to the Diplomatic Council strongly believe that economic diplomacy provides a solid foundation for international understanding and a more peaceful interaction amongst nations.
Social and Humanitarian Projects
The main aim of the Diplomatic Council is to contribute the power of diplomacy for peace everywhere on earth. Worldwide cooperation is a valuable instrument, which may help in solving international problems on any level: economical, social, cultural or humanitarian. The respect of human rights and fundamental freedom of people without differentiation in races, gender or religion should be cultivated and strengthened. For this purpose the Diplomatic Council supports numerous charitable projects appealing for donations. Fees and donations will be used for these projects.
Commercial Projects 
Diplomatic Council corporate members are invited to make use of this platform to find private and institutional investors under the condition that their projects are in conformity with the regulations and values of the Diplomatic Council. The objective is to promote economic prosperity, which the Diplomatic Council believes to be essential for enhancing international understanding and maintaining peace. 
The Diplomatic Council has already been supporting numerous social and humanitarian projects such as: 
Wings of Help
Airlift Chapter 
DC Safer Internet for Children is a global DC Initiative against child abuse
Zero Mothers Die is a global initiative to save the lives of pregnant women and their newborns
Tareto Maa fights against female genital mutilation and forced child marriages
Assistance for school and other projects in Nepal, e.g. a small company manufacturing paper of elephant's dung
Sponsorship for the Eliya Orphanage in Sri Lanka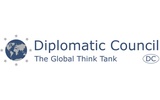 2
projects
£ 5,109
raised