Busy Weekend in Portishead!
Body
Who would have thought it? Portishead is the place to be!
This weekend saw a huge turnout of local people and visitors to the Quay Festival at Hall & Woodhouse on Saturday and a reported 10,000 people enjoying a sunbaked Lake Ground and Esplanade Road for the first soap-box race in 60 years! The town had a real buzz about it this weekend and i was inspired by the amazing things that can be achieved when communities work together. It feels like the perfect time to be hosting the Marina Art Trail!
On Friday i met with members of Portishead Youth Council at the Youth Centre and discussed their plans for a Skate Park Fun-day and how our fundraising could help towards those costs. The Youth Centre attracts lots of creative young people so we will be welcoming them along to take part on Sat 5th at the Marina Arts Trail painting day to paint with over 50 other artists. It's great to have them involved and i cant wait to see what they create!
(Kim, Luke and Esme begin to make plans)
Portishead Arts set up a stall at the Quay Festival at Hall & Woodhouse on Saturday and we had an awesome time talking with the public and raising awareness of the Marina Arts Trail. It was great to meet so many people who supported the idea and were looking forward to getting involved and especially good to meet one or two people who have already donated to the Fundsurfer campaign!
(Everyone's an Artist!)
Portishead Arts member Michelle Lucking had her own stall displaying all of her most recent works, including a stunning twilight scene of the Marina which received a lot of attention... Keep an eye out for what she creates at the event - YOU might be lucky enough to win it!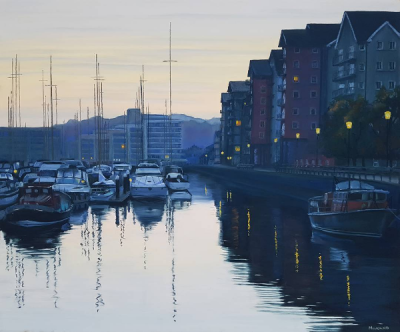 ('Portishead Marina #1' - Michelle Lucking)
Thank you all for your support and please share our Fundsurfer campaign with your friends and family and help us reach our target of £1500!
Luke