Half-Way to Reaching Our Target!
Body
Hello Friends
Because of your support - we are half way to reaching our target of £1500! Thank You!!
Could you help us hit the full amount by sharing this campaign with your friends and family?
With contributions of artwork from artists including Xenz, Andy Council, Gina Love, Paris, Dicy, Acerone, Ian Price and Michelle Lucking - this is a golden opportunity to support art, creativity and young people AND win an amazing piece of original artwork!
Our good friend Ba Aji, a graphic designer and street artist from over the bridge got in touch a while back to tell me he wanted to support the project but would be away in Barcelona on the weekend of the Marina Art Trail. He said he had something in mind and took my address... and this morning this arrived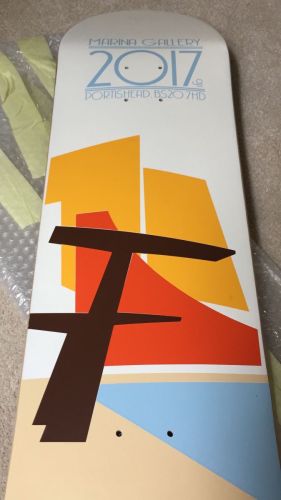 A custom made one-off Portishead skateboard deck! (Yes, you could win this...!)
With just a week to go until the Marina Arts Trail begins, there is a lot happening behind the scenes and we are organising some very special celebrations to accompany the Art Trail on Sunday 6th. All details will be announced over the coming week, so please keep an eye out for emails and FB posts from us as well as in the local press. 
We look forward to seeing you next weekend
Luke - Portishead Arts