Update
Body
Here's an update on what's going on with our homeless/rough sleeping population in Bristol.
The council have taken over a number of hotels, youth hostels and b&bs, which they are moving everyone on the streets into so they can isolate. Most people have now been housed.
If you see anyone out you can check with them whether they've been housed. If not direct them to the council offices at 100 Temple Street during office hours. They are housing everyone regardless of their refugee status or connection to the city. Out of office hours still use Streetlink on 0300 500 0914.
A portion of the shelters are closed but the soup kitchens are mainly still running. We'll be out with Feed The Homeless tonight and Sunday helping manage the queues and providing Sleep Pods for anyone that hasn't or can't be housed for what ever reason. We'll be sticking to one spot in Champion Square where the police have authorised their soup kitchen.
The amazing Shada Nasrullah created an ingenious system to social distance in the queue last week using orange buckets, pics below. It took a little while for everyone to get it but then worked a charm! Molly Mishi May is providing hand made masks for our volunteers.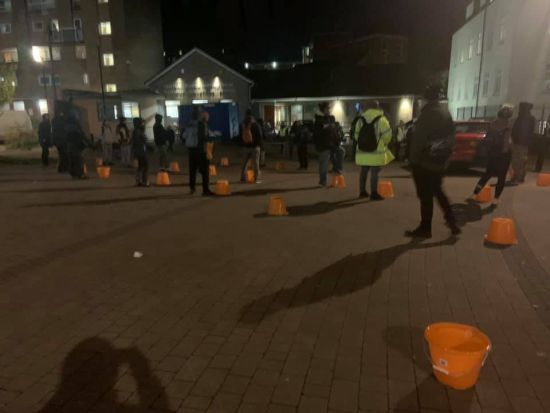 As we're now not putting people in youth hostels ourselves the money raised for that is now going to put together welcome packs for the guys as they move into the hotels to isolate. The first ones, made yesterday, are a weeks food. More of these are being made today, 150 in total. Also clothes and toiletries packs being made up today and tomorrow. Thanks for your help Louis Straker, Jess and Joe yesterday.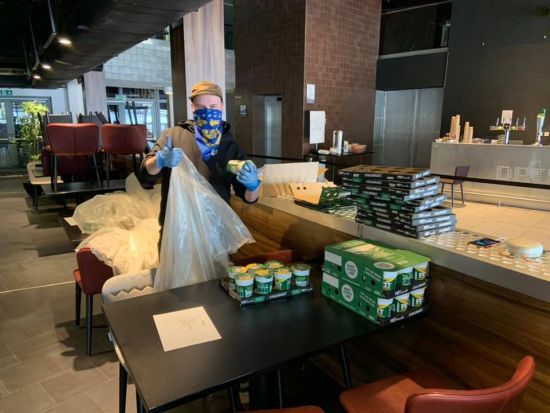 We already spent 3 times what has so far been given on the fund raiser for accommodation and now supplies, so if you can give any more it would massively help! Please give here:
https://www.fundsurfer.com/crowdfund/emergency-fund-for-the-homeless-with-give-a-sht-xmas
While I'm here a massive big up to Bristol Wings youth hostel who were so helpful and friendly when we were housing people, and have now given the whole hostel over to the temporary housing project. Support them if you can when we've got through this. (Some of the other hostels were less helpful...)
It's amazing to have everyone off the streets, which comes as a bit of a silver lining to the dark corona cloud. So much other amazing examples of communities working together too, not least all the homeless charities working together more than ever. Try and stay positive everyone, we'll get through this and maybe come out a better society as a result... ❤️❤️❤️❤️❤️❤️