Introducing Robert Hollingworth and I Fagiolini
Body
Here we meet Robert Hollingworth, who tells us about I Fagiolini's role in the project and what makes this project stand out: https://youtu.be/nKrr1DyAqak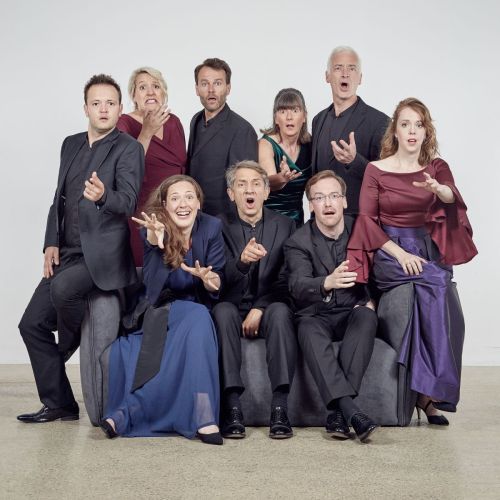 Photo: Matt Brodie
I Fagiolini will sing the choral parts during the on-site filming in Snape and Aldeburgh, partaking in the staged elements of the production as well. They will also provide the choral lines for the guide tracks for the virtual choir.
I Fagiolini is internationally renowned for its genuinely innovative productions: "The group are musical shapeshifters, following Hollingworth's giddy, eclectic imagination wherever it leads" (The Spectator). Signature projects have included The Full Monteverdi by John La Bouchardière; Tallis in Wonderland, a new way of hearing polyphony with live and recorded voices; Simunye, the South African collaboration; How Like An Angel (HLAA), with Australian contemporary circus company C!RCA for the 2012 Cultural Olympiad and performed at the Perth International Arts Festival, New York and in cathedrals across Europe; and Betrayal: a polyphonic crime drama (with John La Bouchardière), an immersive theatre piece sung to the music of Gesualdo with dancers and singers set in 'crime scenes'. I Fagiolini has been working with Polyphonic Films to create music videos since 2003 and a large number of these are available to view on YouTube – https://www.youtube.com/user/thelittlebeans.
Robert Hollingworth founded I Fagiolini in 1986 and has spent much of his life thinking around how to present music of a different time and context to contemporary audiences.  He has presented all the group's signature projects but also directed the English Concert, Academy of Ancient Music, BBC Concert Orchestra and some of the world's finest chamber choirs including Accentus, NDR Chor, BBC Singers, RIAS Kammerchor, Capella Cracoviensis, VOCES8 and the Danish National Vocal Ensemble. He is also Artistic Director for the Stour Music festival, and is Reader in Music at the University of York where he directs 'The 24' and runs an MA in Solo-Voice Ensemble Singing.  He likes Monteverdi and Monty Python.