Amy C Fitzjohn has a new book out!
Body
Hi everyone
It's approaching one year now since I successfully completed my crowdfund to publish Solomon's Secrets.
A lot has happened in the last 12 months. My writing career is flourishing, thanks in no small part to the generous support of my wonderful crowdfund backers and to the team at Fundsurfer.
Being a relentless writer, I'm still tapping away conjuring up new stories and characters. I have also now started my own business providing freelance business support on a group or 1:1 basis so I can help other creatives to realise their dreams.
Check out my lovely new website and 'Business Skills for Creatives' and my business tips blog:
http://authorpreneur.amymorse.co.uk/
Perhaps you have friends, family or associates that would benefit from some professional input with their small business or freelance careers? Do pass on my details or email me at: amy@tomcatdesigns.co.uk
I am also available for public speaking engagements, so please get in touch if you need someone enthusiastic and passionate about creativity and enterprise for your event.
For those of you who have read Solomon's Secrets, I trust you enjoyed it.
If you want to know what happens next to Tom Sheridan and Sasha Blake and whether or not they will ever find the Democritus Manuscript you can now move one step closer to solving the mystery with them...
Gabriel's Game, Part 1: The White Queen is out now on Amazon!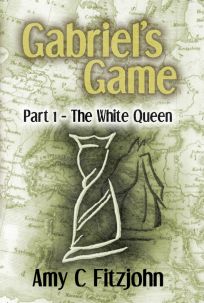 The final instalment of the Sheridan and Blake Adventure Series will be out in 2016 with Gabriel's Game, Part 2: The Black Knight
Stay in touch and I always appreciate reviews on Amazon and/or Goodreads so that more readers can escape into the world of Sheridan and Blake.
Thanks all