A HUGE THANK YOU TO ALL OUR SUPPORTERS
Body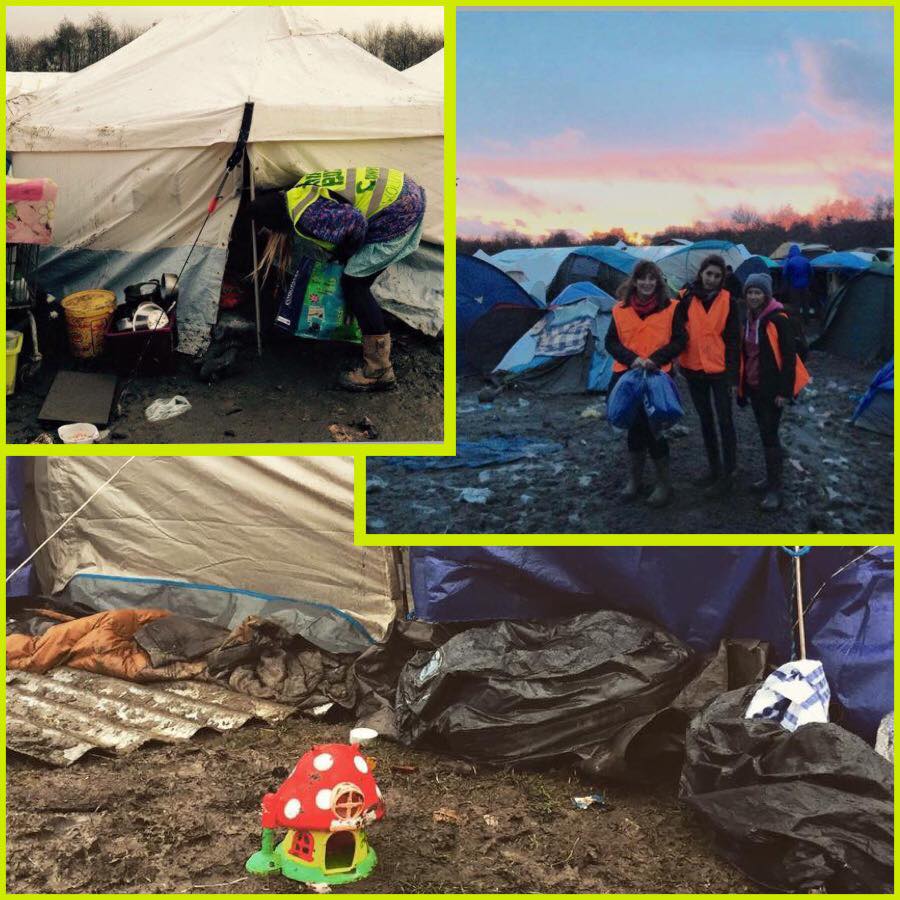 Thank you so much for your very kind and generous donation to Aid Box Convoy, it will have made the life of refugees living in the appalling conditions of Grande-Synthe Camp more bearable. It is thanks to the generosity of people such as you that these brave and dignified people are receiving food and shelter.
There are now approximately 3000 people living under canvas in this camp, including 170 families and 300 children. Many of the remainder are unaccompanied minors, mostly boys between the ages of 13 and 18. There is considerable illness on the camp including hypothermia, scabies, flu, broken bones, many burns, anaemia, chest infections and more. Due to the intense cold, -5 degrees C at present at night, gas cookers are used for heating in nylon tents!
Since its founding in September 2015 ABC has distributed many hundreds of Aid Boxes, food, clothing, bedding and much else to the ever increasing number of refugees arriving at Grande-Synthe Camp and is generally working to raise awareness of the plight of these people and having been successful in many ways. Many have diarrhoea and cannot reach the too few toilets, especially at night.
The local mayor is supportive but is prevented from doing much to help. French political leaders are keen to prevent aid getting into the camp but ABC has been given passes and is sharing these with other aid organisations. No-one is starving now as volunteers are there cooking day in and day out. ABC has also managed to house some people in substantial canvas tents with wood burners. There is a small but substantial schoolroom and community room run by volunteers where children can be warm, safe and dry. However, conditions remain dire on the camp with mud and excrement up to the knees.
Your donation will enable ABC to continue raising awareness and provide on the ground aid. We are now have a solid team of five people living in France and on site everyday, other volunteers go out weekly to help. The following is an example of what these people are doing
Providing cleaning products and cleaning toilets daily
Cleaning the camp, with the aid of refugees
Assessing individual needs daily, ensuring the sick are seen by Medicine sans Frontiere and new arrivals receive an aid box, tent, sleeping bags, blankets
Advising those bringing aid and helping with distribution
Storing aid in the Calais warehouse
Helping with building, trying to get people out of the mud, laying pallets paths
Purchasing clothes, wet weather trousers and tops and shoes of the right size for individual refugees
We are currently collecting for winter emergency aid boxes, other on-going needs remain for fire wood, wellies, gas, stoves and wind-up lamps with usb connectors to charge up mobile phones and phone power packs. Mobile phones are the only life line refugees have with their family members who remain in war zones or are spread around Europe.
It is difficult to describe the full extent of the needs of the refugees, but suffice to say that the vast majority arrive with little more than they stand up in. We are therefore committed to continue supporting the refugees in Grande-Synthe camp but cannot do so without the help of people like you, so a heartfelt thank you again from the Aid Box Convoy team and all the refugees on the Grand Synthe, Dunkerque Refugee camp.
Imogen, Joby, Sam and Rob x