Bristol 1st Newsletter
Body
Dear supporters,
Thank you to everyone who attended our launch on February 11th.  We received significant media coverage and it was fantastic that so many supporters were able to come. We are now in full swing and I am delighted with the number of people working on street stalls during the week and at weekends. It is difficult, but we are working very hard to compete with the mainstream political parties. If anyone feels they're able to contribute time to help on a stall or with door knocking then please get in touch with contact@bristol1st.com. 
Bristol has been hit with even more cuts from central government and last week George delivered his annual budget address to the Council. Since 2011 the council had seen its budget cut by nearly 25 per cent, reducing its spending power by more than £80 million a year.
It was a huge sense of relief when the Green Party and Labour Party supported George with a 2% increase in council tax to fund cuts in adult care services from Westminster. It means that at least these vital services are protected.
We hope that most of you have seen the latest campaign leaflet. One side has a colourful pictorial diagram of some of Bristol's achievements during George's first term as Mayor, the other is an A4 poster which you can put in your window to show support for his re-election. In this newsletter we provide more information about these selected achievements. You can use this when you talk to friends, neighbours or colleagues. And remember that there is a lot of additional information and explanations in previous newsletters – if you haven't got copies, send an email to contact@bristol1st.com to request them.
As we approach the final months before the election on May 5th, please get in touch if you can help in any way - we'd love to have your support. 
James Lancaster
Campaign Manager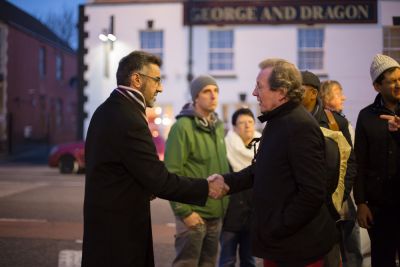 ARE YOU, YOUR FAMILY AND FRIENDS REGISTERED TO VOTE?
On May 5th, there will be elections for:
The next elected Mayor
All 70 ward councillors (the whole council)
The Police and Crime Commissioner for Avon and Somerset.  
The election of all councillors at once is new for Bristol. In the past only a third have come up for re-election each year. So this year, for the first time, we will be choosing the composition of the entire council.
The deadline to register to vote is Monday 18 April 2016. 
Details on how to register to vote are available here: https://www.bristol.gov.uk/voting-elections/register-to-vote
You can check if you are registered to vote by emailingelectoral.services@bristol.gov.uk or calling Electoral Services on 0117 922 3400.
Did you know that people from the European Union who are living in Bristol can vote in local elections? And, students whose family home is in Bristol can vote here even if they are away at university.  Check with electoral services if you think you, or someone you know, may be eligible.
Everyone is now responsible for registering themselves individually. You will be asked for your National Insurance number or other proof of identity to register both online or by post. Help is available to register online at your local library OR 100 Temple Street Citizen Service Point. The registration form can be downloaded from the gov.uk website or you can ask for a paper copy to be sent to you by calling 0117 922 3400.
Postal votes
The deadline for getting an application for a postal vote in to electoral services at Bristol City Council is Tuesday 26th April.
People who are going to be away on election day, or who will find it difficult to get to their polling station for other reasons, can request a postal vote. You will receive a form in the post before the election date and you just cast your vote on the form they send you and return it in the envelope provided. 
How to apply for a postal vote:
You have two votes in the Mayor election
The mayor election uses what's known as a 'supplementary voting system.' This means that you have the chance to vote for your first and second choice candidate for mayor. 
How does this system work?
After voting has closed, all the first-choice votes are counted.
If one of the candidates receives over 50% of the first-choice vote, then they will be elected mayor.
If no-one receives over 50% of the vote, then the two candidates who have come first and second in the first-choice votes stay in for the second round.  All of the other candidates are knocked out.
The second-choice votes of everyone whose first-choice candidate was knocked out are then counted. 
The second-choice votes are added to the first-choice votes for the two remaining candidates. The candidate with the most total votes wins.
You do not have to make a second choice for your ballot to be valid.  However, if your first-choice candidate is eliminated in the first round, having a second-choice candidate chosen may help to ensure your vote influences the outcome.  Your first-choice vote is of primary importance, as it influences the selection of the top two candidates or could contribute to a first-round win if a candidate has over 50% of the first-choice votes.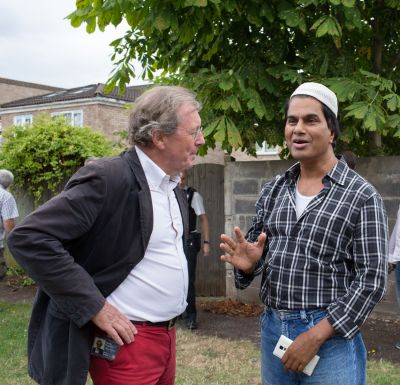 SELECTED ACHIEVEMENTS DURING GEORGE'S FIRST TERM
A lot has happened in Bristol since George became mayor – quite a change from the inertia we have been familiar with for so long!  Here are some achievements highlighted in our most recent leaflet:
Economy
Bristol Arena – In just three years, after decades of delays, the Arena is actually being built. George launched the competition for the design and oversaw its funding approval in 2014. It's predicted to generate millions of pounds each year and create over a thousand jobs.
Living Wage – George made the council an "exemplar employer"(his own words) by introducing the living wage. He also pledged to create a "pathway to the living wage." He is now calling on business to follow his lead and introduce the Bristol living wage across the entire city. 
Filwood Green Business Park – This £12m development is estimated to create over 350 jobs, 150 affordable homes, and a public park in Knowle West. Over 500 people worked on the project, including 300 local sub-contractors.
Bristol Temple Quarter Enterprise Zone –To date, over 1,000 jobs have been created here and £21 million spent on infrastructure projects. Targets are 4,000 jobs in 5 years and 17,000 jobs by 2037.
Engine Shed –The Engine Shed has added £8m to the economy in its first year. It has also created over 115 jobs. A £4m investment for a second Engine Shed has now been made. 
Transport
Metrobus – George has continued to invest in the £200m scheme to enable faster transit across the city. Three new links are being created; North Fringe to Hengrove, South Bristol link and Ashton Vale to Temple Meads. 
£7 million on electric cars – Bristol has received part of this grant, which is intended to increase the number of Ultra Low Emission Vehicles.
20mph – George has extended the policy of a 20mph speed limit in the city. It's proved controversial, but the fall in air pollution and safer streets for children seem worth the fight. 
Metrorail – George has continued investing in this £200m scheme. It's due for completion in 2020.
Housing
Homes in Southmead – 150 eco-friendly homes are being built on the former Dunmail school site in Southmead. These will include affordable homes and houses for sale, rent and shared ownership. Money generated from the sale of the Dunmail site will be invested in school sports across Bristol.
£5m for emergency housing – George has spearheaded this fund. The £5m contributed by Bristol City Council is being matched by the National Homelessness Property Fund. The intention is for homeless families to stay in the purchased flats for 2 to 3 years. 
Environment
Green Capital – George led the bid and Bristol received £7m more funding from government as a result of winning the UK's first green capital. 187 local projects were funded through related grant money. Bristol has become a global model for sustainability through the Bristol Method and some of the local schemes are being scaled up nationally.
Carbon-zero Bristol – George secured cross-party support for a 'carbon zero' Bristol by 2050 and led a delegation to the Paris climate conference in November.
One tree per child – One Tree Per Child is a Mayoral initiative that aims to have every one of the 36,000 children in Bristol's 130 primary schools planting at least one tree.  
Politics
Rainbow Cabinet – George has instated a working cross-party cabinet. This is a big achievement given Bristol's history of political non-cooperation and impasse. 
BRISTOL GREEN CAPITAL
One important piece of misinformation is the implication that money for Bristol Green Capital has been misspent and that accounts are being deliberately withheld.  The truth is that the accounts are not yet completed, and are not due for publication until later next month. As soon as that information is ready we will send out an interim March newsletter so that supporters are fully up to date.   
Bristol 1st