Are you looking for social investment? The Reach Fund is now live!
The Reach Fund is now live! Check out the details below for grant funding opportunities. 

What is the Reach Fund?
The Reach Fund is a two year £4m grant fund that is going to test a new model for investment readiness support. The programme is funded by Access – The Foundation for Social Investment and is open to organisations in England.
Many social investors have been approached by charities and social enterprises who require extra support to become 'investment ready'.
Through this programme social investors will have the opportunity to refer these organisations to the Reach Fund to apply for the support they need. Grants of up to £15,000 will be available.
Why the fund is designed this way
'Investment readiness' has long been highlighted as an issue that prevents charities and social enterprises from accessing social investment.
From the launch of the Investment and Contract Readiness Fund to current programmes such as Big Potential, grant support has been made available to help charities and social enterprises get investment ready.
Access has been setup to continue this work and test new models of investment readiness. The Reach Fund is one of the new models they want to test.
Why we think this will work
We believe that placing the social lender at the heart of the process, and asking them to design the investment readiness plan, could increase the chance of an investment being secured and could also offer better value for money. We also hope that this approach will result in a smooth journey for charities and social enterprises seeking investment. If they require support after they have approached a social investor they will have an immediate route to further support.
If you are referred to the programme your social lender will work with you to identify your needs, develop an investment readiness plan, and apply for a grant.
If you are successful in your application, you can use this funding to pay for the support you need to become investment ready. You can then return to your Access Point to, hopefully, get the investment you need.
How do I apply?
You can only apply for a grant through this programme following a referral from an Access Point. If you are interested in taking on social investment you should still apply to an Access Point, or another social investor, as normal. Then, if your Access Point refers you to the Reach Fund you can begin your application.
Access Point Directory
The following social investors are our approved Access Points. You should already have applied to one of them before applying for The Reach Fund. If you have not already approached an Access Point, or would like to know more information about them, please view their profiles in the directory.
We are the social investment arm of The Big Issue. We extend the mission of The Big Issue by providing finance and support to social enterprises and charities seeking to dismantle poverty.
---
CAF Venturesome is the social investment arm of the Charities Aid Foundation, and is one of the most established and active players in the UK social investment market. 
---
CCF is the Lender for Social Purpose lending to ethical businesses since 1973. We provide loan finance to a range of organisations and community businesses.
---
FSE Group is a Community Interest Company that provides flexibly-structured loan finance of between £100,000 and £1,000,000 to ambitious, 'regulated' social sector organisations. 
---
Key Fund provides loans, sometimes combined with grants, in sums of between £5,000 and £150,000 to support the development and growth of community and social enterprises operating in the North.
---
Northstar Ventures is a venture capital and social investment firm based in the North East of England. Currently managing the North East Social Investment Fund (NESIF).
---
Resonance is a social impact investment company. For more than 14 years we have been helping social enterprises prepare for and raise capital from investors.
---
Social and Sustainable Capital is an FCA authorised and regulated fund manager and social enterprise providing finance to charities and social enterprises. Our mission is simple: to help social sector organisations deliver scalable and sustainable solutions to social issues.
---
Social Finance is a not for profit organisation that partners with the government, the social sector and the financial community to find better ways of tackling social problems in the UK and beyond.
---
Somerset Community Foundation inspires philanthropy that creates vibrant, inclusive communities where voluntary organisations and social enterprises thrive.
---
What are Access Points?
Access Points are social investors approved by the Reach Fund to refer organisations they are working with to the programme. They will be social investors providing charities and social enterprises with loans.
Many of these social investors will have been approached by charities and social enterprises that they want to invest in, but who are not 'investment ready'.
Access Points will be able to will refer these potential borrowers to the programme, while stating what they think these organisations need to do to become ready for an investment.
We believe that placing the social lender at the heart of the process and asking them to design the investment readiness plan, may increase the chance of an investment being secured. It could also result in better value for money.
To find out more about social investment opportunities with Fundsurfer contact us here.
Stay up to date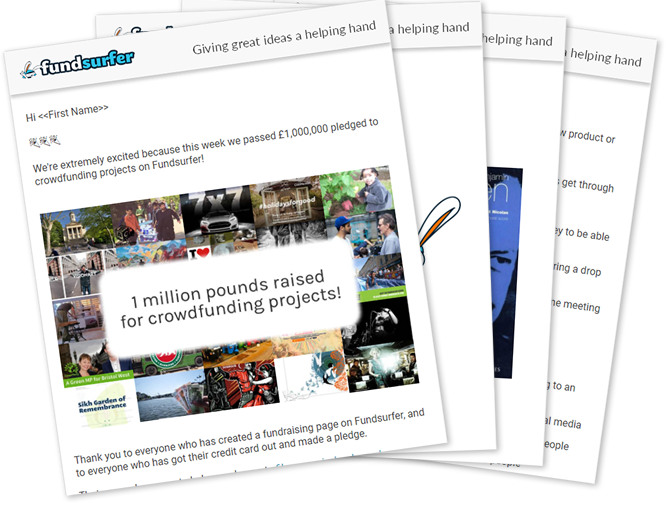 Get our occasional newsletter featuring fundraising news, hints and tips, and our favourite projects
Featured crowdfunding projects