From SETsquared to Silicon Valley!
We just put out a press release!
Local Bristol tech entrepreneur and co-founder of Fundsurfer is going to California to meet with potential investors.
Two local Bristol entrepreneurs have launched a brand new crowdfunding platform offering a new way for people to fund social and creative ideas and projects in Bristol.
Oliver Mochizuki and Derek Ahmedzai created Fundsurfer.com to provide an additional source of funding projects and ideas in a climate where lending from banks has become restricted as well as addressing the loss of grants and funding for the creative industries. Recently they have been invited to visit a number of interested investors in California and to visit tech start ups and other business incubators.
Fundsurfer offers rewards and donation based crowdfunding but the development team behind the platform are developing lending and equity crowdfunding to create only the second 'hybrid' platform in the UK.
In November 2013 Fundsurfer Ltd was accepted into the Bristol SETsquared Centre based at the historic Engine Shed in the cities Enterprise Zone. SETsquared accelerates early stage, high-tech, high-growth businesses and has helped its members raise over £115m since 2007 and create over 650 jobs. Having previously won two national awards from trade body, UKBI, the SETsquared Partnership was recently ranked 4th best business incubator in the world, and number one in Europe.
Oliver who is 34 and lives in Horfield said:
"We created Fundsurfer.com to offer a simple yet highly effective platform to raise funds. Currently bank lending to small businesses and funding for creative and social projects has been cut dramatically. With councils expected to deliver 100% of services for 60% of the budget there is huge scope for disruption of traditional funding models. This applies to all sectors and industries, in the future all kinds of companies will be involved with crowdfunding"
Derek said:
"It's a real honour to be part of the SETsquared Centre. We are also in discussion with key figures from the public and private sector to create a number of partnerships across Bristol. It is no exaggeration to say that in the future billions if not trillions of pounds will go through crowdfunding platforms. Anyone interested in submitting a project can register on the site for free and start raising funds, it's a fantastic way to see if your idea is a good one without it costing you anything"
Nick Sturge, Director of the Bristol SETsquared Centre, commented: "A ready flow of investment for any project - be it a film, community project or start-up business - is a game-changer. Bristol & Bath needs more investment activity and we are keen to support any business that strives to disrupt this market. Crowdfunding is a hot-topic at the moment and Fundsurfer's model is appropriately innovative - as we would expect from a Bristol business!"
Stay up to date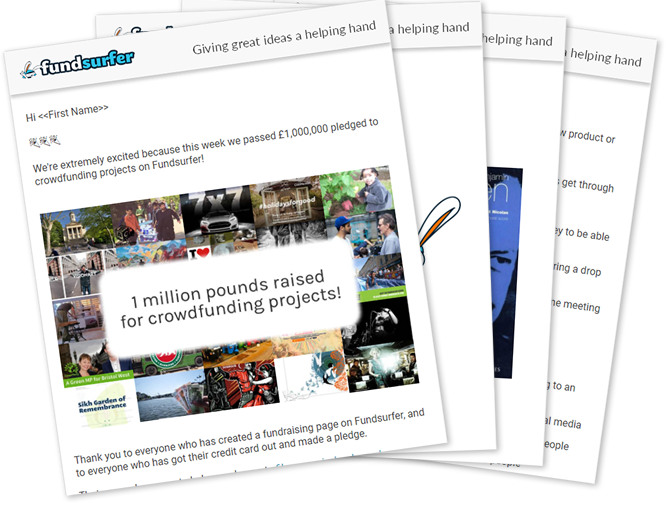 Get our occasional newsletter featuring fundraising news, hints and tips, and our favourite projects
Featured crowdfunding projects