Fundsurfer 2016 highlights
Happy Christmas everyone! On behalf of the whole Fundsurfer team, thank you for your support over the past year! 
2016 Fundsurfer highlights
This year we worked with some incredible partners and projects, here are some highlights:
The first global Fintech-Edtech partnership.
We began working with Jim Garrison and the team at Ubiquity University on their fundraising requirement as well as creating a partnership to work together. Fundsurfer will provide access to funding options and support to all global students and their impact projects, and we will be launching a pilot program in May 2017. Jim was featured in Point De Mire, a Swiss Financial Journal to outline their plan to become 'the Airbnb of education' and discussed the Fundsurfer partnership.
Lights, Camera, Action! 
Our first US film client raised $50,000 for their micro-budget feature film and directorial debut for Liam Hughes, a talented film-maker from California. The films producers secured the talents of Mick Jaggers son, James Jagger to play the lead which was a huge coup for an indie project. The film completed post production in December and we can't wait to see the final cut.
Team Fundsurfer! 
As one of the globally focused UK FinTech platforms (we have worked with clients in 25 countries) we were excited to be asked to join a new initiative to support non-UK entrepreneurs who are looking to set up companies in the UK. Fundsurfer will be providing access to our unique blend of funding options and support to support 'Seven LaunchPad' - bridging the world with the UK to bring emerging tech startups to grow in local ecosystems with support from the GEP. Our partners include departments of the British Government and renowned regional accelerators and funds such as LaunchHub (Bulgaria), Flat6Labs (MENA region), StartitSmart (Bulgaria), Adfaber (Romania) and many others.
Yeah science! 
We began working with our first MedTech and Life Sciences client in 2016 who closed a round of €70M to further develop their immunotherapy treatments. This led to us developing a partnership with the amazing team at Capital Cell, we are now working with many more MedTech, BioTech, Life Sciences clients and experts around the world.
Sometimes you just have to pick up the phone
After unsuccessfully trying to convince the National Ignition Facility in the US to work with us on a fusion power crowdfunding project, we began researching the commercial market. We contacted the CEO of General Fusion and we are now working on an X-Prize crowdsourcing project to support fusion simulation together and solve the World's energy crisis! 
Let's go to Texas...
We worked with Bristol Media to crowdfund part of the bursary to support the professional aspirations of a young person to attend the world's largest interactive conference, SXSW in Austin Texas. The winner was designer and illustrator Jasmine Thompson! 
Purrfect result! 
Bristol's first Cat Cafe will be opening in early 2017. They secured £20,000 to develop their plan and secure a location. The CEO Ewa's vision and drive was instrumental in the success of the crowdfunding campaign. Congratulations to the wonderful team at You&Meow!
Mr Graff came to Upfest!
Upfest (Europe's largest graffiti and street art festival) worked with the creators of the Mr Men series to launch a new character, 'Mr Graff'. Designed by Bristol artist Cheo, Mr Graff was showcased at the event as part of their 45th anniversary. The Upfest team raised over £16,000 for the festival and we had an amazing weekend, blessed with sunshine. 
Solidarity with refugees
Sadly 2016 was marked with a huge wave of refugees fleeing war zones around the world. We began working with many aid organisations and projects including Aid Box convoy and Calais Refugee Solidarity, who started to coordinate fundraising and aid collection efforts. We helped raise over £120,000 for different projects and over 1000 tonnes of aid was collected and distributed in Calais and Dunkirk refugee camps, helping thousands of people with food, water, clothing and shelter. It is incredible to be part of the refugee solidarity movement and we thank everyone so much for their individual and collective efforts. In 2017 we will be focusing on how Fundsurfer can bring more support and funding to address the refugee crisis. 
Collaboration is key
2016 was a big year for new partners. We love to find and secure the best possible partners and networks for our clients. Providing strategic support and opportunities is part of our service and a key reason why our clients choose Fundsurfer as their funding partner. 
A warm welcome to all our new friends including Fundable, Bristol Private Equity Club, MyMicroInvest, Greenbackers, Creative England, Goldfinch Entertainment, Dandylion Entertainment, Invesdor, The Cambridge Science Centre, Farrows Creative, Worldview Impact, Milamber, Social Enterprise Works, Bristol Junior Chamber, Quartet Foundation, Bristol Media and Wildstreet Productions.
Whats next in 2017?
We are launching our new community shares funding option, working with some incredible charities and CIC's to access impact investment and drive social enterprise and the social economy forward. 
Time to double down on green energy
The Middle East,  North Africa, and Asia are going to be big growth areas with our team focused on green investment deals, developing solar, wind and other renewable energy projects along with our funding partners around the world. Now is the time to do more not less in terms of tackling climate change. 
We will also be: helping to launch an incubator in Egypt; developing a global initiative for the 100 richest individuals in the world to support an impact investment infrastructure fund; working with female coders in Afghanistan; launching our app for UK companies looking for Chinese investment; and helping hundreds more amazing companies and projects get funding!
Projects we love
Stories and Songs for Syrians are fundraising for a weekend of music, stories and crafts for kids, in Cheltenham & Gloucester, 4-5 Feb
Safer off the Streets have raised over £22,000 so far - nearly enough to cover the average cost of the whole Bristol night shelter programme for three weeks
St George's Bristol have raised 12% of their £200,000 Building a Sound Future Appeal
Oxford Homeless Pathways are fundraising to help for homeless people across Oxfordshire
Blue Monday Bristol want to help you survive the Blue Monday blues and get yourself sorted for 2017
Flat Earth, Fact or Fiction are sending a camera to space to settle a bet
Solidarity Festival are planning a great festival for 2017
Events
Launch of the Royall Wealth Club
We are working with the team at Royall Wealth to launch a new wealth club in Bristol, focused on social investment. The launch event will also focus on community-based investment with inspirational speakers such as leading Bristol philanthropist and businessman, John Pontin, as well as Ed Rowberry from Bristol & Bath Regional Capital, Oliver Mochizuki from Fundsurfer, and Alexander Higgins from Triodos Bank.
Find out more details and book your place here 
Engine Shed Briefing Friday 24th February 2017
Come along to an event run by Engine Shed in partnership with the RSA, hosting the first of 2017's Engine Shed briefings on the convergence of the Scale Up and Inclusive Growth agendas.
This event will explore how we deliver on the national Scale-Up agenda, in a way that really works for the city-region - i.e. that growth benefits from being inclusive, while at the same time contributes to strengthening the social fabric and resilience. Book tickets here.
Starting A Business? Everything You Need Is At StartUp 2017
The UK's biggest start-up show of the New Year is back on 14 January 2017, find out more here. 
What is Fundsurfer?
We're a crowdfunding and commercial finance platform. We help amazing projects get funded with our unique blend of funding options and support
If you know someone who needs funding for their project or company, tell them to find us at Fundsurfer.com 
 
Stay up to date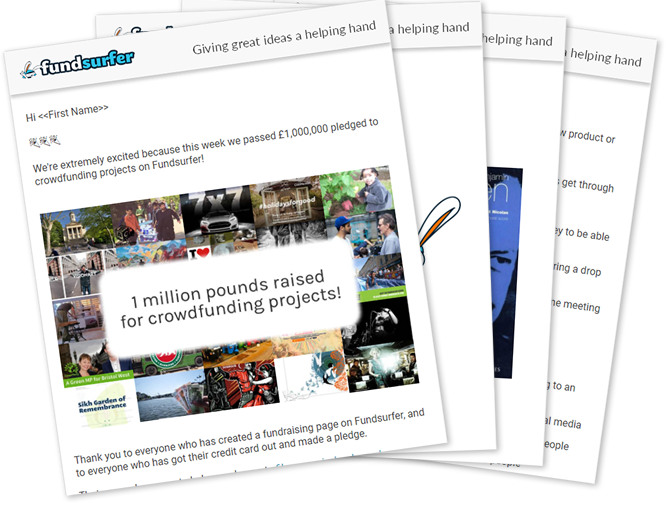 Get our occasional newsletter featuring fundraising news, hints and tips, and our favourite projects
Featured crowdfunding projects