How do you win the Game of Funding?
This article was originally posted on LinkedIn Pulse
Although it's not quite as harsh as playing the Game of Thrones where you win or you die, raising funds can be tough. However I am excited to say that there has never been a better time to start a new company. The costs to launch a business are lower than ever and we are seeing unprecedented numbers choosing entrepreneurship. In the UK we had 500,000 new start ups register in 2013 with over 8000 in Bristol alone. 
So what is changing? Short version - everything. There is a shift towards support and development of new companies, as evidenced by moves from the banking industry and the government to start doing more to help start up companies. Due to alternative finance the entire funding landscape is shifting towards faster and more efficient ways to raise, invest, transfer and save money. Transferwise is a great example of this kind of disruptive online fintech.
As we work through the age of austerity it is clear that the grant bonanza days for creative, social and green projects are long gone. To a certain extent there is still a scramble to adjust and some organisations are struggling but for the savvy entrepreneur, there is a vast national support network and ecosystem developing and growing in the UK. Tapping into that support can be the difference between success and failure.
Investment capital available is increasing as well. From seed finance to series A rounds we are seeing a big growth in investment into the tech sector with fin-tech in particular emerging as a major driver of innovation in the capital. Outside of London we have tech clusters across the rest of the country but here we can see adisparity in access to funding and support which needs to be addressed. In Bristol we already had a strong backbone of tech businesses with IBM and HP based here but Bristol and Bath is now rated 2nd in the UK for tech companies opening up lots of opportunities for co-funding, financing and supporting new projects. We also have SETsquared, rated as the top business incubator in Europe having supported dozens of high tech, high growth companies over the past decade including our funding platform Fundsurfer.
The support and level of expertise provided by the entrepreneurs in residence and the top level business experts on hand within an incubator is invaluable for early stage ventures. This is something we can expect to see further investment and growth in. The confirmation of the SETsquared Engine Shed 2 development in Bristol being a case in point. 
A good place to start out is to look at the map of UK tech clusters and seek out your local incubator, UKTI, Start Up Britain and the Start Up Loan Company all offer different levels of support. Visit incubators and chat to fellow entrepreneurs about their experiences and sample the working environment. Starting and running a company is difficult and support along your journey is essential. Don't be afraid to ask for help, if you know where to look there is a wealth of knowledge, funding and support available.  
At Fundsurfer we love working with creative, green and social projects and companies so drop us a line anytime to discuss funding options and support available.
Stay up to date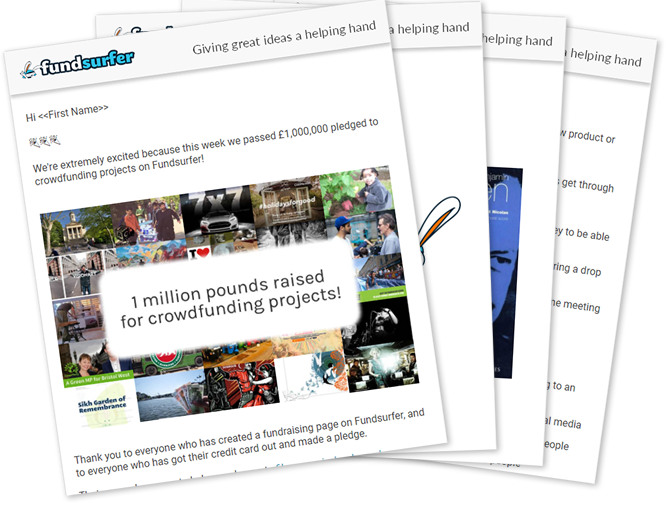 Get our occasional newsletter featuring fundraising news, hints and tips, and our favourite projects
Featured crowdfunding projects