Calais Refugee Solidarity Bristol Benefit Gig at The Stag & Hounds Fri 25 November 2016 from 7pm.
Body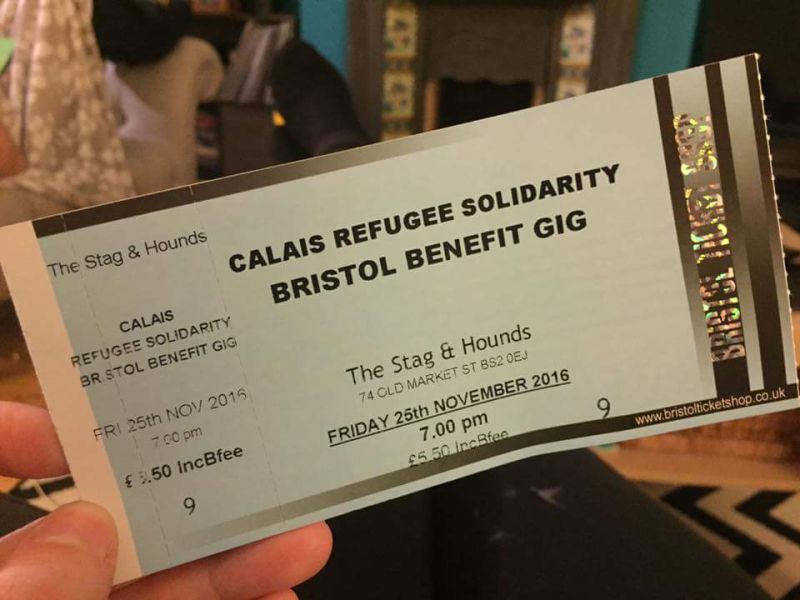 Make sure you get tickets for our fundraiser at the stag and hounds on 25 November! 
Tickets available now at Bristol Ticket Shop.
Thanks for your support! 
Calais Refugee Solidarity Bristol Benefit Gig
Featuring:
SKEWWHIFF
RITA LYNCH
INVINCIBLE PIGS
THE FANTASY ORCHESTRA
CLAYTON BLIZZARD
CENRIS
+DJs & spoken word
SKEWWHIFF
http://skewwhiff.bandcamp.com/
https://www.facebook.com/skewwhiffofficial/?fref=ts
Worcester based female-fronted angular post-punk four piece, Skewwhiff evoke some of the classic early 80s political punk bands like the Au Pairs, Gang of Four with a hint of Pixies.
Onstage they're like Debbie Harry surrounded by an interstellar dream team of Topper Headon, Mike Watt and John McGeoch. Regular faces on the festival scene, Skewwhiff are currently recording the follow up to their 2014 debut long player, Nice Little Upper, and playing a string of impressive Autumn support dates incuding Back to the Planet and Britpop legends Dodgy.
"I absolutely LOVE your new album and am playing it in the car ALL THE TIME. It is THE TESTICLES!" -Attila The Stockbroker
RITA LYNCH
https://ritalynchx.bandcamp.com/
http://ritalynch.co.uk/
After leaving school in the late 70's, Rita started her own band 'Rita and the Piss Artists' - an all-female punk band, playing bass guitar, and she has been making music ever since. A legend on the Bristol scene, Rita Lynch's songs are an explosion of sexual, religious, and social imagery driven by an energy that comes across just as strongly in an acoustic set as when she plays with her band. Known for her insurmountable stage presence, Rita performs with her three-piece band as well as solo and has spent time as guitarist for Bristol art-rock band the Blue Aeroplanes.
INVINCIBLE PIGS
https://invinciblepigs.bandcamp.com/releases
https://www.facebook.com/Invincible.Pigs/
Bristol based Folk-Punk fusion five piece playing a lively mix of politically conscious songs, traditional jigs and contemporary covers. 
THE FANTASY ORCHESTRA
http://www.fantasyorchestra.org/
https://www.facebook.com/FantasyOrchestraBristol/
The Fantasy Orchestra is a combined community choir and orchestra created in Bristol in 2011 by Jesse D Vernon with the initial intention to play a set of tunes by Ennio Morricone, but since then has grown in size and scope and now has branches in Paris and Jersey. The Orchestra has a wide repertoire, performing music by David Bowie, Jimi Hendrix and various exotic music and film soundtracks.
"Bristol Fantasy Orchestra and choir are completely bonkers, amazingly talented musicians that had the most eclectic repertoire I've ever heard! It included the theme tune from Star Trek, John Lennon's Imagine, two songs from the movie The Wicker Man, Queen's Bohemian Rhapsody and an Indian song from a Bollywood movie!" - Keynsham Music Festival
CLAYTON BLIZZARD
https://claytonblizzard.bandcamp.com/
http://claytonblizzard.com/
Clayton Blizzard is a writer, singer, poet, musician and performer from Thornbury, Bristol, who expertly fuses together folk, punk and hip-hop, combined with genius lyrics laced with sardonic wit.
CENRIS
https://soundcloud.com/Cenris
https://www.facebook.com/Cenris/?fref=ts
Cenris is a Folk/Goth/Rock solo project from Bristol. It is a combination of traditional songs, along with original material influenced by Pagan, Irish, Scottish, English and modern folk alike.
Plus various DJs and spoken word artists