Launch Party
Body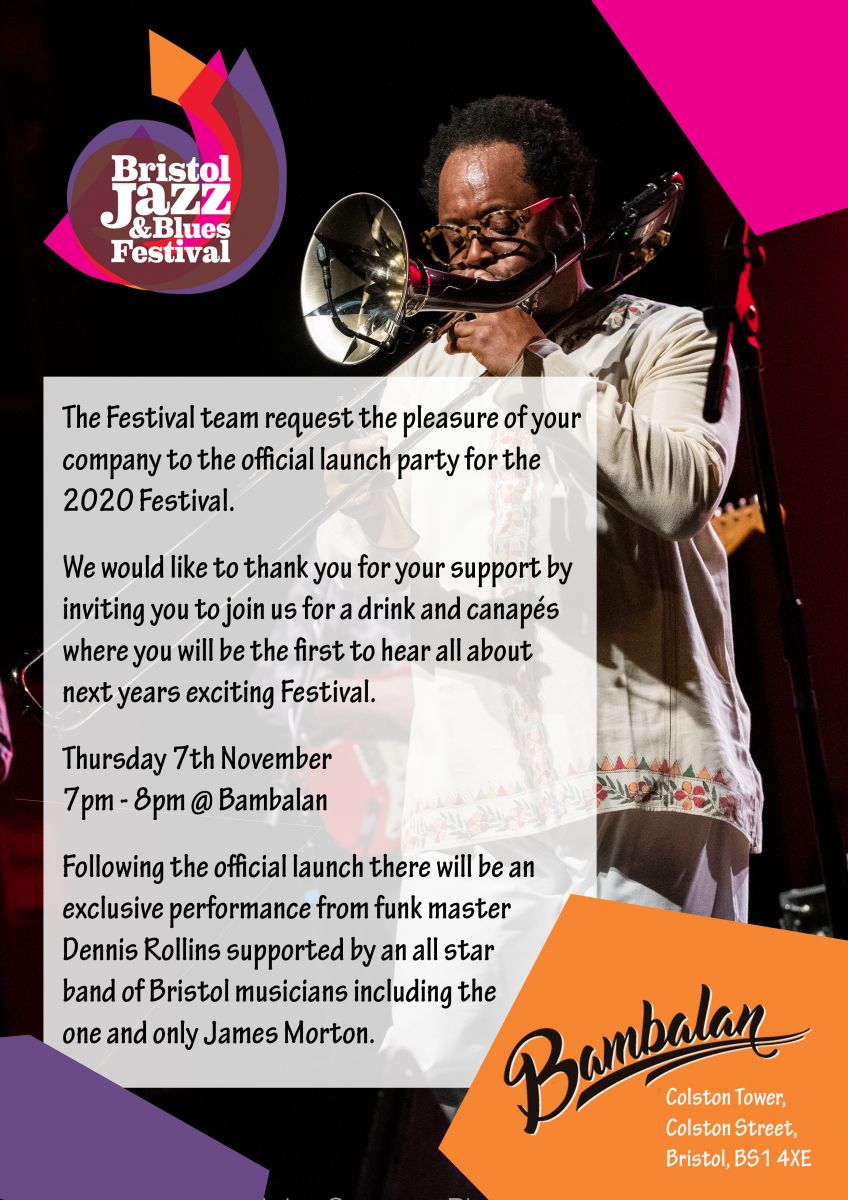 Dear Pledgers,
We can't thank you enough for your generous support as well as truly believing in our festival and what it brings to Bristol. Since launching our crowdfunder we've been working hard to secure the festival for the future, not only with your financial support but through fundraising concerts, approaching other fundraising bodies and targeting company sponsorship. We've also restructured everything we do to ensure we can move forward for the years to come, while still providing the same level of music that we all know and love.
Your generous donations have now meant that we have been able to secure next years festival and be able to contract musicians, secure venues and put an exciting music programme together for 2020 and deliver it to the same standard that you know us for.
To show our appreciation we'd love to invite you for a drink and canapés at Bambalan on Thursday 7th November from 7pm - 8pm where we will also be announcing next years programme. Following the official launch we have an open event to the public that will feature funk master Dennis Rollins supported by some of Bristol's finest musicians including James Morton, Denny Illett, Ian Matthews and Jonny Henderson. 
If you are intending to come to the official launch at 7.00pm please email nigel@bristoljazzandbluesfest.com to confirm your attendance, for the music performance starting at 8pm we've asked that the general public apply for tickets so if there's anyone who you are inviting for this part of the evening, then please get them to sign up for tickets so we have an idea of numbers (links below).
By now most of you should have received your perks however I know there is a few people waiting on the music classes and masterclass which is currently getting sorted by our Artistic Director. If for some reason you haven't received a certain perk and its been over a month since you donated please contact leon@bristoljazzandbluesfest.com so we can chase it up.
Relevant Links:
Confirmation of Attendance to Launch Party 7pm - 8pm
nigel@bristoljazzandbluesfest.com
Facebook Event Page for Music Concert at 8pm
www.facebook.com/events/422316955096140
Eventbrite Ticket Link for tickets to Concert at 8pm (only needed for members of the general public)
www.eventbrite.co.uk/e/bristol-jazz-and-blues-festival-launch-party-tickets-77371304655
Hope to see you there and thank you once again :)