£40k raised!!! THANK YOU, THANK YOU, THANK YOU!!!
Body
Dear all
The fundraising campaign has now ended...
I'm delighted to let you know that the final total, with gift aid added, is an amazing £40,600! Our original target was £25k. Thanks to you, we absolutely smashed it.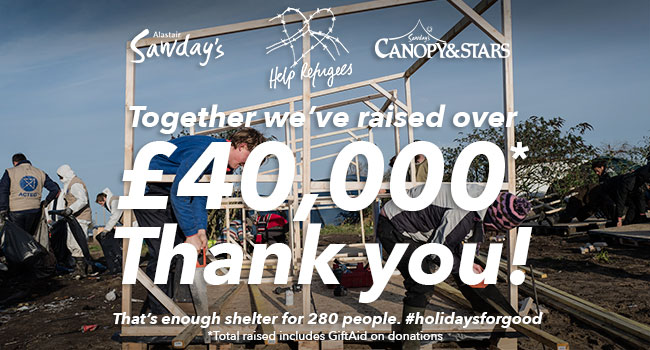 We feel so proud of how the Sawday's and Canopy & Stars wider community of owners and guests came together to achieve this. Together we have raised enough to provide vital shelter for 280 people.
We should, and will, do more of this kind of thing.
Thanks again from Sawday's, Canopy & Stars and Help Refugees.We are incredibly grateful.
Tom
Managing Director
Sawday's Canopy & Stars
PS - (And an important PS!) We will be drawing the lucky winners of the holidays next week, and so watch out for an email if you're one of the deserving winners... The stays will be allocated on a first come first serve basis from the list below, so you'll need to be fast. It's a bit like a wedding list. Once a holiday is taken it's gone. But fear not they're all good'uns and no 24 piece dinner sets...
Our generous owners supporting this campaign and the holiday prize selection
South East
*Wriggly Tin – 3 night stay for 2 people in a shepherd's hut
Beechwood – 2 night stay for 2 people in a B&B
Vintage Vacations Airstream – 3 night stay for 4 people in an airstream
7 Longport – 2 night stay for 2 people in a B&B
Nut Plat Retreat – 2 night stay for 2 people in a living van
Barclay Farmhouse – 1 night stay for 2 people in a B&B
Snoadhill Cottage – 1 night stay for 4 people in a B&B
The Georgian Flat – 4 night stay for 2 people in an apartment
*31 Rowan Road – 1 night stay for 2 people in a B&B
*The Dairy at Streat Place Barn – 3 night stay for 2 people in a cottage
Glottenham Castle – 4 night stay for 5 people in a yurt & geodome
Swan House – 2 night stay for 2 people in a B&B
*The Ship Inn – 2 night stay for 2 people in an inn
South West
Harptree Court – 1 night stay for 2 people in a treehouse
The Oakhouse – 3 night stay for 2 people in a cabin
Home Orchard Cabin – 2 night stay for 2 people in a cabin
Bramblewood Yurt – 2 night stay for 2 people in a yurt
Quiet of Stars – 3 night stay for 2 people in a cabin
Tregerrin Barns – 3 night stay for 4 people in a cottage
Trewithen Tabernacle – 2 night stay for 2 people in a tabernacle
The Wild De Go – 2 night stay for 2 people on a boat
The Hideaway – 3 night stay for 2 people in a B&B
*The Batmans Summerhouse – 2 night stay for 5 people in a cabin
*Bulleigh Barton Manor – 2 night stay for 2 people in a B&B
Leewood – 2 night stay for 2 people in a safari tent
*The Lamb Inn – 1 night stays for 2 people in an inn
The Old Forge – 2 night stay for 2 people in a shepherd's hut
The Anchor Inn – 1 night stay for 2 people in an inn
*The Gate House – 4 night stay for 10 people in a house & cottage
Mundays Meadow – 2 night stay for 10 people in a camp
Lower Wiggold Cottage – a 3 night stay for 4 people in a cottage
Lima/Posey – 2 night stay for 2 people in a shepherd's hut
*St Anne's – 1 night stay for 2 people in a B&B
The Stables – 2 night stay for 4 people in a cottage
Jericho – 2 night stay for 2 people in a B&B
*The Beeches – 2 night stay for 2 people in a B&B
Crooks View – 2 night stay for 2 people in a shepherd's hut
*Huntstile Organic Farm – 5 night stay for 4-6 people in a B&B or cottage
Puckshipton Arkette – 2 night stay for 2 people in a wagon
Rushall Manor – 2 night stay for 2 people in a B&B
East
Little Gatley – 3 night stay for 2 people in a cottage
*The Barn, Tudor Lodgings – 3 night stay for 2 people in a barn
*Mill Farm Hay Barn – 3 night stay for 2 people in a barn
*Washingford House – 2 night stay for 2 people in a B&B
*The Stable at Belle Grove – 3 night stay for 2 people in a stable
East Midlands
*Mappleton Manor – 3 night stay for 6 people in a house
*The Gathering – 4 night stay for 6 people in a safari tent
*The Gorse House – 2 night stay for 2 people in a B&B
The Old Rectory – 1 night stay for 4 people in a B&B
North
No 1 Harrogate – 2 night stays for 2 people in a B&B
North Shire – 3 night stay for 4 people in a hobbit house
Copper Beech Glade – 2 night stay for 7 people in 3 gypsy caravans
Ellerbeck House – 3 night stay for 2 people in a B&B
*St Aidan's – 2 night stay for 4 people in a chapel
*Thorpe Hall – 2 night stay for 2 people in a B&B
Ponden Hall – 2 night stay for 2 people in a B&B
*Nether Westwick – 3 night stay for 2 people in a cottage
Wales
Plas Efenechtyd Cottage B&B – 1 night stay for 2 people in a B&B
*Hen Dy, Nanhoron – 7 night stay for 7 people in a house
*The Slate Shed at Graig Wen – 1 night stay for 2 people at a B&B
Penhein Glamping – 7 night stay for 6 people in a tent
*Little Oasis Pandy – 2 night for 2-4 people in a railway carriage or Gypsy wagon
*The Old Vicarage B&B – 2 night stay for 2 people in a B&B
Come By – 3 night stay for 2 people in a Shepherd's Hut
*The Sleepout – 2 night stay for 2 people in a cabin
Kinton Cloud-House – 2 night stay for 2 people in a yurt
Old Larch Yurt – 2 night stay for 2 people in a yurt
Scotland
Brockloch Treehouse – 2 night stay for 2 in a treehouse
*Melville Terrace – 3 night stay for 4 people in an apartment
Kincaple Stables – 3 night stay for 4 people in a cottage
*The Keepers Cottage – 7 night stay for 4 people in a cottage
*The Lochan Shepherd's Hut – 2 night stay for 2 people in a shepherd's hut
*The Peatcutter's Croft – 2 night stay for 2 people in a B&B
*Mackeanston House – 1 night stay for 2 people in a B&B
* denotes pet friendly