Somewhere out there
Primary tabs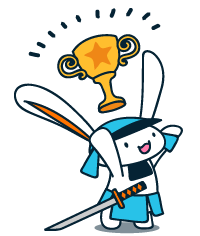 Congratulations!
This project was successfully funded on Sunday the 4th of September, 2016
£1,410 was raised by 34 supporters — that's teamwork!
---
Want to raise money for your own business or project? Start your own project now
SOMEWHERE OUT THERE is a dark comedy that challenges views about how certain types of women are represented on the screen.
THANK YOU SO MUCH EVERYONE, WE HAVE REACHED OUR TARGET !!!
SOMEWHERE OUT THERE is a dark comedy that challenges the views about how certain types of (often voiceless) women are represented on the screen. It satirizes 'norms' to show how they are being objectified and mistreated.  The project is being helmed by BAFTA award winning writer/director Rachel Tillotson, http://racheltillotson.com/ and it has attracted the attention of actors such as Pippa Haywood (GREENWING) http://bit.ly/2bkbU7c, Amy McAllister (Call the Midwife) https://vimeo.com/118111327 and Mary Woodvine (Eastenders) https://vimeo.com/79767024
Funds are currently being raised to help film selected scenes that will then go on to support a larger project in the future — a short film, or a television series pilot.
What it's about: SOMEWHERE OUT THERE follows Sabrina, a somewhat neurotic, vain woman who is fed up with the tedious boredom of purgatory. Inconveniently, Sabrina has been ritualistically murdered — she's been left in the afterlife wearing a pair of particularly unbecoming antlers. Bored, Sabrina now hangs out with a handful of other deceased women. One has become her nemesis, an irritating Irish woman, Geraldine O'Brien, who was killed then wrapped in plastic and dumped in a river. To Sabrina Geraldine acts far too superior because her corpse gets to move on, floating with the tides thus raising her chances of it being found.
All the women are waiting to be found, they're somewhere out there. They need Detective Laura Hannings to find them so that they can be 'released' to eternal rest. Only Laura has the capability to 'sense' them. Unfortunately, Laura is often caught up in her own neuroses — pissed off, Sabrina and the others watch Laura get lost in her life, lost in her job, in drink, in men, and in clothes.  Laura absent-mindedly misses vital clues, Sabrina and the others' are saddened how their physical bodies will remain lying in ditches, on wastelands or in cellars 'waiting' to be found — most are scantily clad in lingerie, calling to mind stereotypical victims of shows like TWIN PEAKS, or TRUE DETECTIVE.
SOMEWHERE OUT THERE aims to challenge views about how certain types of women are acceptably voiceless and objectified on the screen, satirising these 'norms', and showing how women are being mistreated.
Carole Godfrey
Played by Pippa Haywood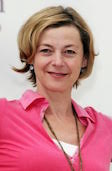 We're thrilled to have actress Pippa Haywood (GREENWING) play the part of Carole Godfrey. http://www.imdb.com/name/nm0371846/ Carole is a motherly figure who Sabrina goes to often to confide in. Carole is in bits - literally. She is a decapitated head in a grassy area on the edge of a forest. Her limbs run free, like children. She is dry and somewhat sour but has a reassuring philosophy to her - in a good mood, but a raging temper in another.
Pippa has an extensive television career which includes portraying the much put-upon Helen Brittas in the BBC One comedy series The Brittas Empire (1991-1997), Julie Chadwick in the 2007 BBC Two comedy Fear, Stress & Anger and the hot-tempered, sex-mad human resources director Joanna Clore in Green Wing (2004-2006), for which she won the "best comedy female performance" award at the 2005 Rose d'Or television festival in Lucerne, Switzerland).
Sabrina
Played by Suzie Preece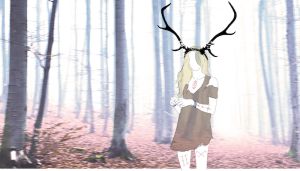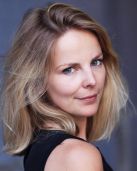 Sabrina wears makeshift antlers on her head. She died this way, in a ritualistic killing (in cream silk lingerie). The antlers are strapped tight. There are marks cut into her skin of weird symbols. She has no idea what they mean. She can't get the antlers off. The 'look' has to remain until her corpse is found. She's pissed off and utterly bored. The character of Sabrina has been written for actress Suzie Preece.
Laura Hannings
Played by Mary Woodvine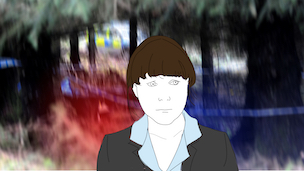 Detective Laura Hannings, (of the world of the living) 48, is a slim, pretty lass, with a history of divorces and some kid living far away.  She has a secret drink problem and a notion of needing medication. Perhaps by not taking her meds she can tune into that special feeling that there are victims out there – calling to her.   Laura has the "investigative gaze", a sort of sixth sense where - usually a character is aware of the killer's presence - but this time, with Laura, it's the victims. However, her talent for the "investigative gaze" isn't entirely wholesome because Laura is somewhat preoccupied with sex and drugs and, well labels. In this way she is guilty of distraction and getting waylaid by trivia, and so the dead women are bitching about her. When a corpse is found Laura visits it – stepping through police cordons Laura glares down at the lingerie label. The dead women cluster around gossiping, invisible to the living.
Mary Woodvine is a British television actress who appears as Mary Harkinson in the BBC soap Eastenders in 2003. Her father, John Woodvine, is also an actor. Mary trained at the Royal Welsh College of Music and Drama and was a core member of Kneehigh Theatre and has performed in Doc Martin, Born and Bred, Doctors, Casualty, Pie in the Sky, Grafters, Wycliffe, Down to Earth and Heartbeat.
Geraldine O'Brien
Played by Amy McAllister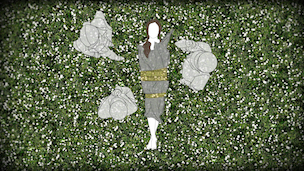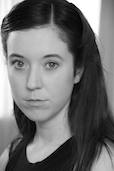 Geraldine is wrapped in plastic. A full body wrap, TWIN PEAKS style. There are bruises on her face. Her skin is pale. She died before being put in the plastic. The plastic was once bound tight around her, though now the tape is coming loose and the plastic has more movement to it. Geraldine tries to make the most of her predicament. She can't get the plastic off. This 'look' she carries has to remain until her corpse is found.
The character Geraldine has been written for Amy McAllister. Amy is an Irish actress most notable for her role as Mary in hit BBC drama Call the Midwife. She appeared in Philomena, which starred Steve Coogan and Judi Dench.
Detective Len and Officers Brett and Clive
Played by Steven Elliot and Eoin Slattery and Tim J Henley
Steven Elliot plays Detective Len (of the world of the living). Tired, serious, overworked and drained by his officers Len is love with Laura Hannings. There is history there but Laura is indifferent to it.  Steven trained as an actor at the Royal Welsh College of Music and Drama in Cardiff. He graduated with a distinction and won the HTV acting prize.
Often following alongside or behind Detective Len in the land of the living are two policemen, Officer Brett and Officer Clive, played by Bristol based actors Eoin Slattery (Clive) and Tim J Henley (Brett) are hungry to find something more controversial a problem to deal with than traffic cones. Clive and Brett are a somewhat more unhinged double act, thirsty for drama and crisis. Eoin Slattery trained at Bristol Old Vic Theatre School and Tim J Henley is a professional screen actor based near Bath.
Rachel Tillotson
Writer/Director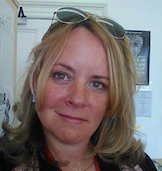 http://rtillotson5.wix.com/racheltillotson
Rachel is a BAFTA award-winning filmmaker with extensive short film and TV directing experience. She trained as an actress and directed theatre at Bretton Hall College (Leeds University) before completing an MA in Film Direction at the Royal College of Art. She's made nine shorts, financed by a range of funders such as LFVDA, UKFC, Film Four and Anglia TV. She's sold her shorts internationally to many TV stations and has won numerous awards, such as from Clermont-Ferrand, DepicT, R.T.S, Brest and Encounters Festival. She won her BAFTA for the BBC drama OFFSIDE and won another R.T.S. for GIRLS IN LOVE.
She was BAFTA long-listed for her most recent short. Rachel attended Cinefondation screenwriting residency in Paris (Cannes film festival) and attended the 2008/9 Guiding Lights scheme. Her directing mentor David Yates (Harry Potter). She was on the 'Think, Shoot, Distribute' BFI scheme alongside Andrew Haigh ('45 Years') and she was accepted onto the Creative England 'Elevator Scheme'. Rachel won the Nick Darke screen award for her feature script CUB, which had Tim Spall and Helen McCory attached in principle. CUB was selected for the Berlinale Talent Project Market. She is currently working to develop three features: THE SHIPS ABOVE ME: http://theshipsaboveme.com/  WAKE UP and DISORDER
Special effects Makeup artist: http://maximalfx.com/
Jennifer Drew is an experienced special effects makeup artist with a passion for creating realistic makeup effects from the everyday to the fantastical. Her portfolio is diverse, taking inspiration from history, art, fantasy, and contemporary culture, with an emphasis on the grotesque and the macabre.
Costume: http://carolyncorben.com/
Carolyn Corben (costume designer) is a talented director with a striking and inimitable visual style in both commercials and music videos, and has over ten years of directing experience.  Characterised by meticulous art direction and styling, combined with a gift for getting great performances, her work to date has set a benchmark for fresh and innovative advertising, and it is obvious that Carolyn's brand of fabulously slick and stylish directing work owes a lot to her fashion and style background.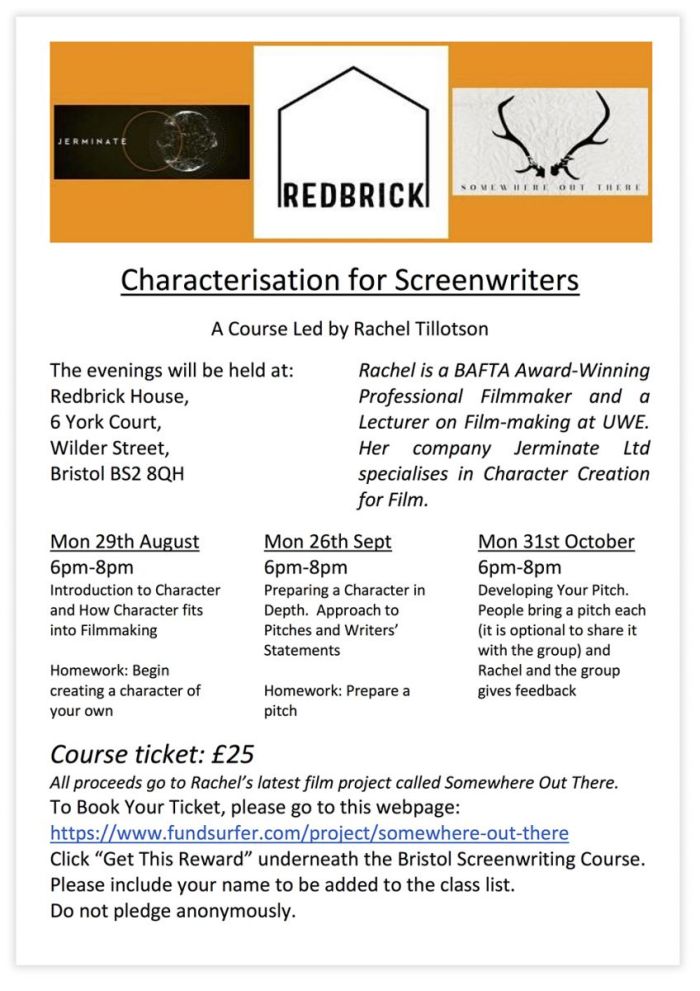 £
1,410
pledged of £1,400 goal (GBP)
33
backers
This project ended on 4 September 2016
This is a take what you raise project. At the end of the funding period the project owner receives all of the pledged funds.
This project was created by
Get these rewards
£5 – Exclusive Newsletter
Weekly updates about the development of the project .
£10 – Digital Content Pack
All of the above PLUS a digital content pack of behind the scenes photographs.
£20 – Live Insider Material
All of the above PLUS insider videos and photos live from the set during production.
£50 – Digital Copy
All of the above PLUS a digital copy of the completed scenes after production.
£100 – Exclusive Merchandise
All of the above, PLUS an exclusive SOMEWHERE OUT THERE poster signed by Rachel and the whole cast.
£25 – Bristol Screenwriting Course (UK Only)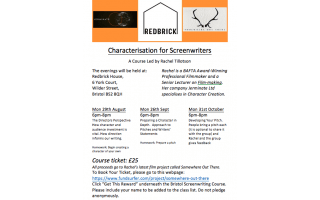 A three-evening course on Characterisation and preparing to pitch your characters by Rachel Tillotson. This isn't included in any other reward on this page.
Monday 29th Aug 6-8pm
Monday 26th Sept 6-8pm
Monday 31st Oct 6-8pm
£100 – White Antlers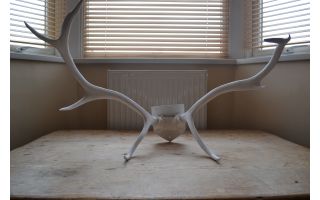 We are selling White Antlers - a one off prize....They are so lush. They are large, they are white and beautiful. Collection only within Bristol or they can be delivered to anyone buying them in Bristol. They can be hung on the wall. Image to come soon!!! They are gorgeous...
Featured crowdfunding projects