Join Miss England's fight to prevent deadly diabetes
Primary tabs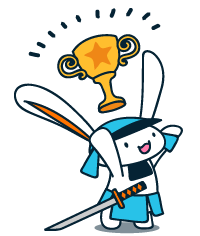 Congratulations!
£25 was raised by 1 supporter — that's teamwork!
---
Want to raise money for your own business or project? Start your own project now
Help this remarkable NHS Junior Doctor and winner of Miss England 2019 make videos to fight a growing epidemic of Diabetes amongst young people.
One of the UK's Most Serious Health Issues 
According to Diabetes UK there is estimated at present to be over 4 million people living with diabetes in the UK. This represents 6% of the UK population or 1 in every 16 people having diabetes (diagnosed and undiagnosed). The number of cases is growing, especially amongst younger people. It isn't the disease itself that kills its victims, but instead the deadly side effects that arise if it isn't treated properly. Diabetes is also one of the most expensive health conditions to treat and many people have it, but don't know it which increases their chances of developing fatal complications.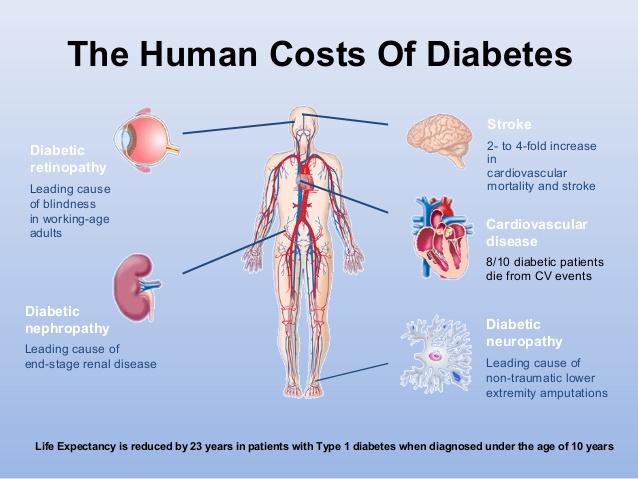 What's urgently needed right now is a figurehead to encourage the younger generation to adopt best preventative measures.
A Perfect Ambassador
On 1st August 2019, Bhasha Mukherjee made history by becoming the first British Asian to win Miss England. Less than 12 hours later, Bhasha started her new job as a Junior Doctor at the NHS Pilgrim Hospital in Boston Lincolnshire .
Bhasha came to England aged 9 with her parents as a refugee. Her parents and brother now live in Derby. Bhasha returns every weekend to see her family.
Bhasha was scouted to enter the Miss England competition by the Asian Face of Miss England, which is a contest held alongside Asiana Magazine to find more Asian entries to the competition.
Following her win, Bhasha appeared in media across the world with massive coverage in the UK, including, Sky News, Hello Magazine, The Times and The Daily Mail.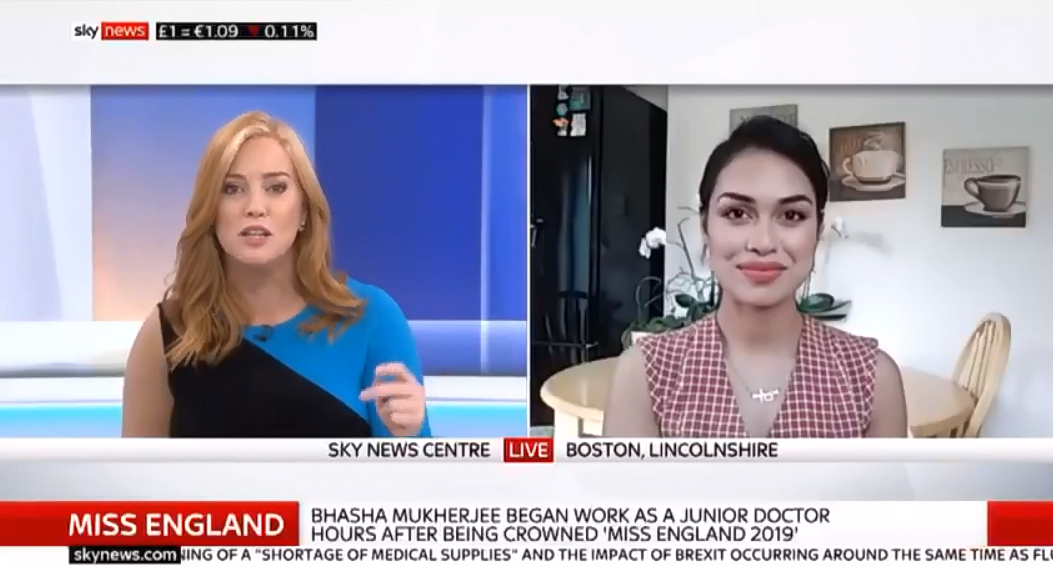 Bhasha launches Beauty With A Purpose with Diabetes UK
After revealing her own father suffers from the disease and almost lost his eyesight she announced that she will be supporting Diabetes UK as her Beauty with a Purpose Project as part of her bid to become Miss World.
"I plan to take my Diabetes Campaign into schools to promote the importance of eating less sugar, I believe Diabetes is preventable if we educate our younger generation ."
Campaign Platform
Miss England together with media production partner The Video News Factory has recenly generated major success by partnering to align high quality video with Miss England's 60,000 social media followers.
The 2019 Grand Finals was livestreamed by TVNF and has now had over 14,000 views from all around the World.
In July we ran a small Facebook competition and with just 20 contestant and gained some truly remarkable results. Over a 5 day competition the post reached 342,212 people and had:
• Organic reach on 1st day 48,456
• This increased by 2nd day to 68,826145,460 video views
• 140,161 post engagements followed by
• 17,894 reactions (interactions with page)
• and 61,101 shares.
This shows we have a uniquely effective platform to promote Barsha's campaign to a younger generation and help prevent them suffering this terrible disease. But right now, all that Bhasha has to get her message out is her mobile phone. She is a remarkable young lady and with her medical qualification is the perfect ambassador for Diabetes UK and so surely deserves the very best support. We urgently need to sieze this unique opportunity to get her mission captured and into a series of  educational videos that can be promoted over the next year and beyond. 
URGENT ACTION NEEDED
Ahead of Bhasha preparing to enter Miss World we have a small window to work with her on a series of videos to back her diabetes campaign. We've set a target to make our first video in October but our fund raise is open ended and we'd love to make more episodes in this series, either in October or in early 2020. Each educational documentary shoot will cost around £4,500 to produce and publicise to Miss England's 60,000 network plus press release. Costs also include UK VAT of 20% and Backers will get a VAT receipt so fees. For every extra £2,750 extra we can produce extra videos from each on-location shoot. Backers will be helping to fund planning, project management, filming, editing, Miss England management and digital promotion for both the fund raise and promotion of each video, plus cover basic expenses for Barsha's travel and time. Plus10% or the raise being paid as a fee to Fundsurfer.  At the same time Bhasha will use the videos to help raise funds for associated charities and promote Diabetes UK.
HOW TO BACK US NOW
Individuals can back Bhasha with just £25. Those with more funding can gain more benefits and the more you back us the more digital promotion and PR will be given back to you. The ultimate backers will have a video dedicated to their company or organisation. If you have a company or service that is helping fight the disease or a strong personal commitment to combatting diabetes then please help fund Bhasha so we can create high quality, powerful, meaningful content to be promoted by Miss England's extensive UK wide / Global media and PR circle. 
£
25
pledged of £4,500 goal (GBP)
1

backer

This is an open ended project. There is no time limit and payments are taken straight away.
This project was created by
Get these rewards
£25 – Personal Backer
Signed photograph from Bhasha with personal thank you message.
£50 – Key Backer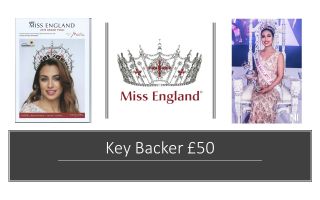 Personal thank you from Bhasha
Plus signed copy of 2019 Miss England programme.
£100 – Video Backer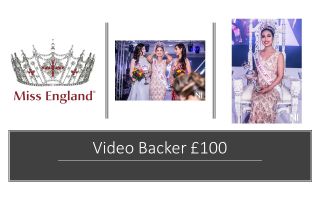 Personal thank you from Bhasha and signed copy of 2019 programme
Plus USB or DVD with recording or crowning of MIss England 2019 and all of the Grand Finals.
£500 – Digital Media Backer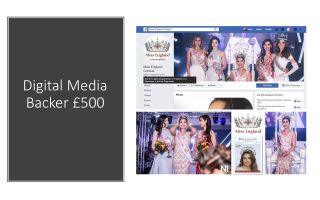 Public thank you from Bhasha with video message published on Miss England Facebook account.
Signed copy of 2019 programme
Plus USB or DVD with recording or crowning of MIss England 2019 and highlights.
£1,000 – VIP Featured Backer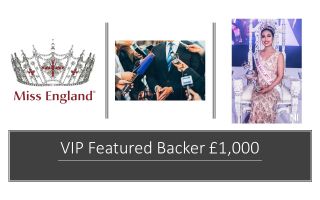 Logo added to the video.
Logo added to Miss England website with link.
Your company or service mentioned in either one of the videos for 30 seconds, or a 1 minute promotion presented by Miss England.
Personal thank you and signed copy of 2019 MIss England programme.
£2,500 – Main Content Backer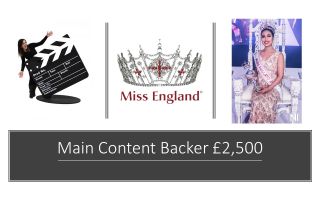 Short documentary style video of up to 10 minutes focussed on Miss England helping showcase how you are helping combating diabetes, this could be via lifestyle change, medical devices and treatment, education, medical research, fitness, other fund raising
Logo added to the video.
Logo added to Miss England website with link.
Company featured and thanked in video and Miss England PR
Featured crowdfunding projects