Crowdfunding is a means to an end. The money isn't really your goal - it's what it enables you to do. 
These are just a few examples of the impact that our crowdfunding projects are having.
Stokes Croft Food Project recently posted this update on their crowdfund:
"A year ago today we registered our community food project as a CIC... one year on we can proudly say that we've delivered over 10,000 nutritious meals to members of our local community. We couldn't have done it without the support of each one of our project backers, volunteers, project partners and a wide array of other stakeholders that have supported us along the way."
Community Care Package are another organisation making a huge impact:
"Together we have really kept people from going hungry. So far we have delivered over 20,000 boxes to over 5000 people. Over 250 volunteers have helped so far and YOU have raised over £90,000 and we've spent it on fruit and vegetables!"
Sleep Pod make an emergency aid that keeps rough sleepers warm and dry: 
"Since 2018 we have tested our design and materials and refined our processes to run builds powered by volunteers in order to build nearly 3,000 Sleep Pods."

"We have now developed relationships with in excess of 40 organisations/charities across the UK and Europe who we are working with in relation to the distribution of Sleep Pods. "

"The big push this year is to build 10,000 Sleep Pods. We need all the help we can get to raise the funds to make this possible."
Fairfield High School are providing tech for students who need it:
"The school have bought 20 laptops and 10 dongles with the money we've raised."

"We're not done yet though.  The kids may be back in school but the digital divide lives on.  We aim to raise £25,000 -  the sum needed to buy another 100 laptops for students at the school."
What kind of impact do you want to make?
Stay up to date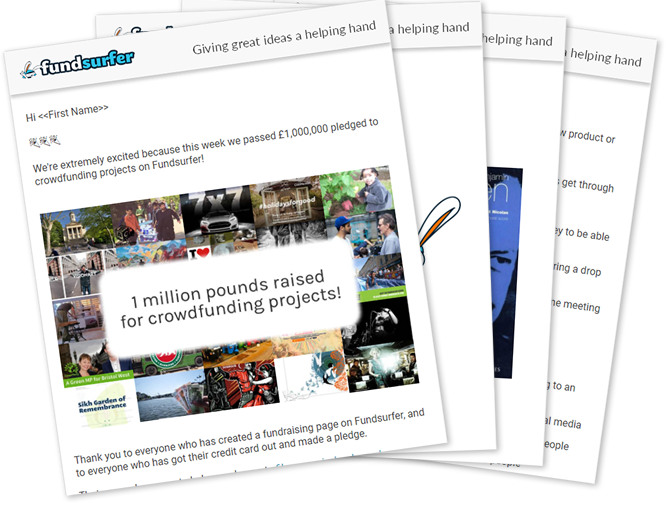 Get our occasional newsletter featuring fundraising news, hints and tips, and our favourite projects
Featured crowdfunding projects