Keep All Hallows Hall for All the Local Communities
Primary tabs
All Hallows Hall was run by AHCC voluntarily for 11 years. We tried to buy the building but despite huge efforts, we failed. But there is still hope!
This fundsurfer film was intended to launch a fund to buy All Hallows Hall. We were so close to securing it as a community asset but we ultimately came up short.
Our intension was to buy the hall due to severe time constraints then sell it back over time to locals and communities through the community share scheme. 
Now we want it to help open up a dialogue with the new owners so they share the hall with other resident communities of Easton.
Our mission is still to Keep All Hallows Hall for All the Local Communities.
THANK YOU FOR A BEAUTIFUL, FANTASTIC, INCREDIBLE, JOYOUS, NON JUDGEMENTAL 11 YEARS.
Our hearts have been broken, we put so much work into that beautiful hall, but now we want to start a new story of communities coming together.
We ask you to do five things
1. Donate what ever you can. Suggested donation £11 for 11 years of community action, fun, sport, music and dancing.
We estimate it will cost us £4300 to relocate AHCC locally and fund the community consultation about the future of AHH as a public space. We are not looking to make money but as volunteers it would be great if we didn't personally end up in debt.
2. Come to our celebration party of all things AHH at Lost Horizon on Nov 30th
AHCC presents 11 years at All Hallows Hall | Facebook
www.skiddle.com/whats-on/Bristol/Lost-Horizon-HQ/AHHC-Pres-11-Years-of-All-Hallows-Hall/37126404/
3. Click on this link to sign a petition to help keep All Hallows Hall for All Local Communities.
https://you.38degrees.org.uk/petitions/keep-all-hallows-hall-for-all-the-local-communities?source=rawlink&utm_medium=socialshare&utm_source=rawlink&share=2d687679-051a-4c9a-9eed-9029ab640e72
4. Check out some of the photos and remember our Joy!
5. Read our plans 
We had a clear vision on how to make All Hallows more inclusive and better space for all..
All Hallows Community Co-Op (AHCC) ran All Hallows Hall (AHH) in Easton, Bristol for 11 years . Despite our efforts making a £150,000 of improvements and paying £100,000 in rent, the landlord sold the building to another buyer at well above market value, despite him making zero improvement to the building and in the end we were evicted abruptly with minimal notice.
It was sold by the landlord to a Kurdish Community group, who have as yet unknown intentions for the building.
---
We changed All Hallows Hall from this
AHCC took AHH from a derelict building with no toilets, no electricity, smashed out windows, a burnt out stage and detritus everywhere.
And changed it to this!
Over 70,000 people come through the doors of All Hallows since AHCC took over the building providing a huge positive social impact to our communities.
In those 11 years  AHCC has generated over £250k through weekly classes and events rehearsals and hires. We hosted 100's of events in that time whilst improving the building with zero funding. And fought off two attempts to turn AHH into flats whilst making the area a safer and more fun place for local residents. 
A selection of the live music events we hosted  - Honeyfeet - Toy Face - The John Langan Band - Cut Capers - The Turbans - Fitty Gomash - Buddy Wakefeild - Kath Bloom - Kit Hawes - Toby Hay - The Fantasy Orchestra - Widerman - Emily Breeze - Leonie Evans - Bristol Community Big Band - Bristol Reggae Orchestra - LTJ Bukem - DJ Pinch - Rita Lynch - Johnny Vistic - Jim Ghedi  - Spindle Ensemble - Imran Khan - MC Conrad - Velcro Hooks and many more. 
We also hosted weekly classes and events such as - Three Acres and a Cow - Easton Community Pantomime - No Reason Film Festival - M.C Beth - Labour of Love - Conqueer - Femme Fatale - Blowing a Hooley - Medlar Ceilidhs - Fooling workshops - Clowning workshops - Acting classes - The Ping Pong Parlour - Bristol Co Operative Gym - Record fares - Medley Markets - Kings of Ping - Pongress - All Hallows Festival - The Carpet Forest. It goes on and on.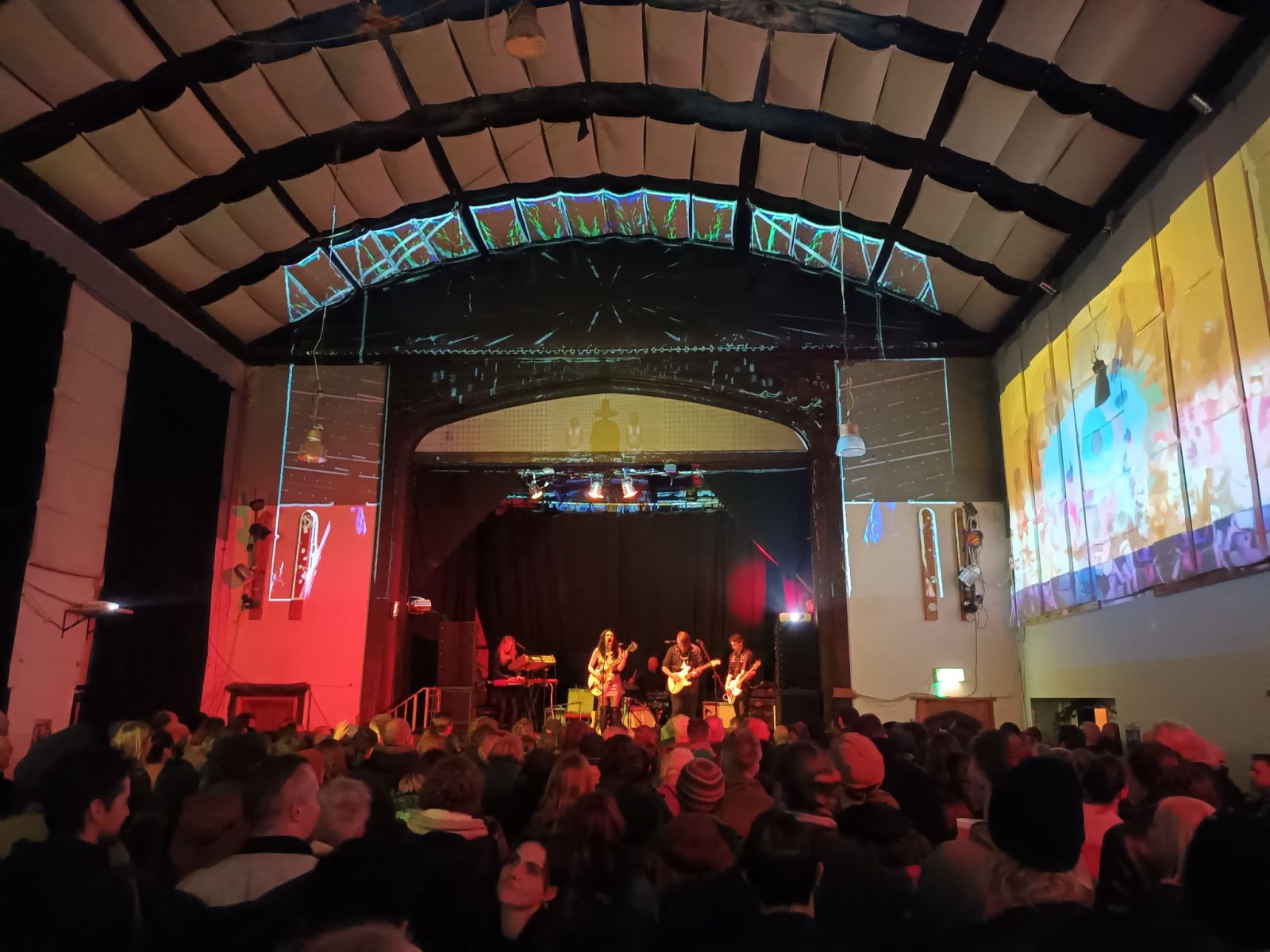 More things we have done!
During the pandemic and continued to the present day, the space has been freely used by The Plough (who raised over £71,000 from 2990 donors for fresh veg using Fundsurfer)to distribute over 25,000 community veg boxes  to some of Bristol's poorest families. The space has also been used to hold manufacturing workshops of "Sleep-Pods" providing free portable, life-saving shelters for homeless people all over the UK. 
We have always worked with the local community and tried to represent them with a lot of our events and classes. We have never had any trouble and have always been on good terms with the local residents who support what we've been doing.
We are determined to keep the space for the open to the local public at affordable rates. 
We hope our new Kurdish friends find a way of sharing the space with local communities.
We planned to do this and more. We are now embracing the change and trying to find another venue and work with the new owners of AHH to keep the space public. 
Donate if you can and help us drive positive change in our community and keep this incredible building for ALL local communities
Credits Photos: Fren Chie. Neil Ray Smith. Cinematography: Tom Swindell   Editing: Merry Colchester
Written, Produced and Directed by: Dave Lovatt.
And All Hallows Community Co-op 
£
42
pledged of £4,300 goal (GBP)
2
backers
28
days to go
This project ends on 31 December 2023
This is a take what you raise project. At the end of the funding period the project owner receives all of the pledged funds.
This project was created by
Featured crowdfunding projects