Don Davies Independent Parliamentary Candidate for North Somerset on June 8th
Primary tabs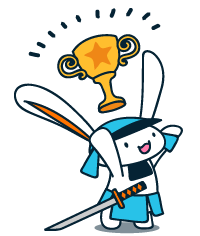 Congratulations!
This project finished on Thursday the 8th of June, 2017
£880 was raised by 33 supporters — that's teamwork!
---
Want to raise money for your own business or project? Start your own project now
Don Davies is the only Candidate who can genuinely represent the people of North Somerset without being forced to obey the party whips in parliament
Don needs to fund his general election campaign in order to print posters and leaflets and publicize his campaign.  As a genuinely independent candidate, he is not taking money from any political party.  Supporters are already contributing, but in order to boost his campaign and get a real choice to get rid of Liam Fox as MP Don needs all the help, he can get.
In his response to questions on key election issues from North Somerset Times readers, Don responded:
Brexit:
The country voted to leave, not to make ourselves poorer.  An independent MP must hold the government to account to safeguard the interests of all constituents in the negotiations, including major international trade employers like Portbury Docks and Bristol Airport.  Access to the single market could save jobs.  Reciprocal rights of EU and UK citizens need securing. If the electorate demands sign-off of the final deal when they have the information to make a genuine choice I fully endorse that.
Crime and policing:
The nature of crime is changing: internet-related, drugs, child abuse, modern slavery, people trafficking, terrorism, extreme anti-social behavior.  With fewer officers, our police have a very difficult task to cope with their existing workload let alone respond to these new threats.  Our new Chief Constable will provide the stability for the police service to confront these challenges.  As your MP I would work closely with the PCC to ensure we keep our people safe and our police adequately resourced.
Education:
We have excellent schools in North Somerset, yet they are in grave danger.  Funding is not keeping pace with needs nor numbers.  There is excessive government interference in their running.  Let teachers get on and teach!  Grammar schools are a distraction.  What we need is properly resourced education that gives our youngsters the skills for our modern world, for the hi-tech industries that will be the wealth generators. And we must work to attract the very best to become tomorrow's teachers.
Health/NHS:
It is too hard to get an appointment to see your GP; waiting lists lengthen; A&E units struggle, mental health services are in crisis. Attempts to privatise, cut spending and reorganize our local NHS (again!) should be stopped and priority given to creating a long-term health and social care system fit for purpose.  GP surgeries, hospitals, and local specialist provision need more resources.  We must have a grown-up debate on how we properly fund health for an aging population. 
Housing:
North Somerset has a housing crisis.  Too many people are unable to find affordable homes to rent or indeed to buy: there is overcrowding and homelessness.  This government has starved rental housing providers of funds and won't force developers to build houses where they already have planning permission.  We need massive government investment here in affordable homes in sustainable locations, with good transport links, local jobs and services. These are difficult decisions, but we owe it to future generations to make them.
We need your help!
Don's campaign will include mailings of leaflets, a video, posters, rosettes, hire of rooms for public meetings, audio equipment and, of course, the campaign T-Shirts!  All of these need financing so any contribution will be gratefully received
 
Donate and share now. 
£
880
pledged of £2,500 goal (GBP)
33
backers
This project ended on 8 June 2017
This is a take what you raise project. At the end of the funding period the project owner receives all of the pledged funds.
This project was created by
Get these rewards
£10 – Supporter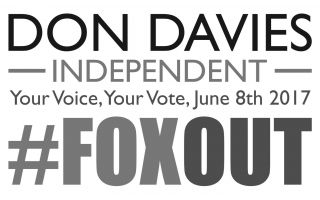 Big thank you on social media!
£25 – Tshirt and promo pack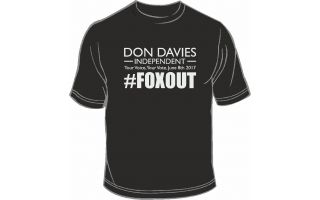 T-shirt and posters to display in your window.
Featured crowdfunding projects