Help us fund and launch 91 Ways International pop up Peace Cafes!
Primary tabs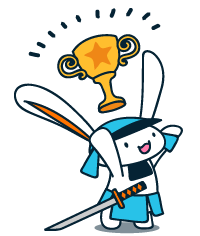 Congratulations!
£22,279 was raised by 455 supporters — that's teamwork!
---
Want to raise money for your own business or project? Start your own project now
Bristol's International Peace Cafés - Uniting Our City Through Food. Help us grow across Bristol and then the UK!
What is a Peace Café?
The Peace Café is a ground-breaking pop up (the first of its kind in the city) dedicated to uniting Bristol's 91 language communities through the medium of food. We are launching our crowdfunding project to raise a minimum of £20,000 to allow us to bring Peace Cafe events to as many of the different communities across Bristol in 2017 as we can!
Once successful with our first crowdfund we will raise additional funds to launch our amazing pop up Peace Cafes around the rest of the UK! 
Who are you?
We are a small, but dynamic, social enterprise known as 91 Ways to Build a Global City (named after the 91 languages spoken in Bristol). We started life as a charity in the Spring of 2015, the brainchild of our founder, Kalpna Woolf, who had a vision of connecting all of Bristol's language communities through food. We've collected recipes and food stories from many of Bristol' language communities and helped to bring together groups who have never come into contact with one another before. We've also worked with schools and universities to promote awareness and launched Bristol's first International Peace Café.
We want to build on our successes and grow the project even further so that we can do more good work in the city. We've already achieved so much and with your help, the sky's the limit.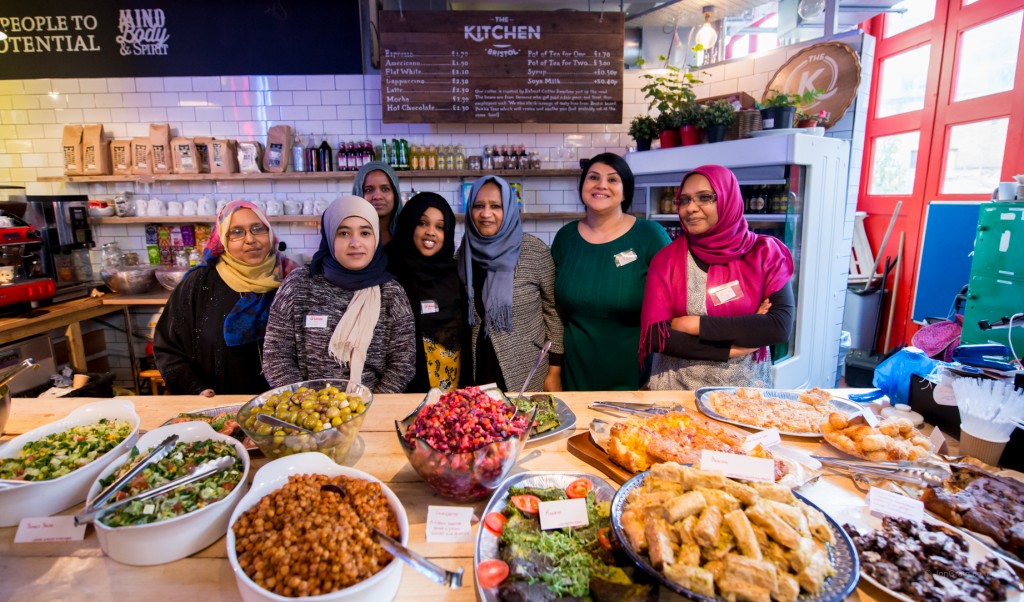 At its simplest level, the Peace Café seeks to celebrate the common humanity which connects us all by bringing together Bristol's 91 language communities to share food and stories. Sharing food is the most basic human expression of friendship and community and a powerful way of uniting people.
We launched our first pop up Peace Café in November, at the Kitchen Café in the centre of Bristol. Our launch saw a group of Iranians, Russians, Eritreans, Sudanese and Somalis, from Refugee Women of Bristol, join together to create a dazzling assortment of epicurean delights, each unique to its community and rarely found together in one place. 
Our Peace Café launch was a huge success with hundreds of people from over forty of Bristol's language communities coming together to share food and stories with one another. The Peace Café also provided a unique opportunity for the cooks themselves to showcase their food and talk about their culture. 
We want to build on the success of the launch, by hosting pop up Peace Café events across the city. Our aim is to connect with all of Bristol's 91 language communities.
Why does Bristol need a Peace Café and who will it benefit?
We want to use the uniting power of food, to bridge the gaps between Bristol's 91 language communities, in order to build a more united and sustainable city. 
A Peace Café will benefit everyone in Bristol. By helping locals to connect with one another, the Peace Café will not only play an active role in reducing divisions and isolation in the city, our unique project will also maximise the many positives of living in our richly diverse metropolis for everyone.
The Peace Café will provide a safe environment where people from every language community can meet. While there are many community groups in Bristol that meet and cook, there isn't one place where they can all gather together. We want the Peace Café to be a relaxed space where people from every walk of life can 'break bread' together, talk freely and connect through food.
The Peace Café will empower community cooks to showcase their talents and hone their business skills. All of our chefs are highly skilled cooks, women from Bristol's rich tapestry of cultural diversity, representing the broad variety of world cuisine to be found in the city and experts in their own particular area. However, many of the women we work with have never been given the opportunity to utilise their catering skills in a professional environment. The Peace Café setting empowers our cooks , helping them to build on their existing skills, providing knowledge and experience of benefit as they seek to develop their careers in the future.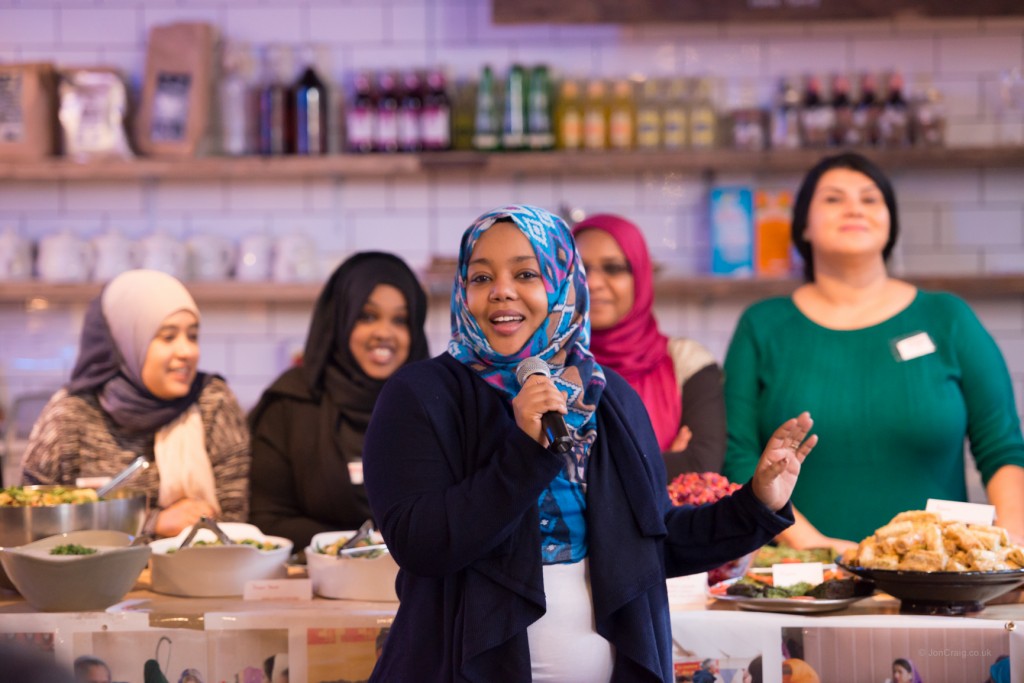 How will sharing food and stories help unite Bristol?
As the saying goes 'an enemy is simply someone whose story you haven't heard' and we'd add, someone you haven't shared food with.
Sharing food and stories promotes understanding. Research by Princeton has proven that sharing stories really does bring people together. Neuroscientists at the University performed MRI scans on the brains of storytellers and listeners and found that the listeners experienced the exact same brain patterns as the storyteller. The listeners developed empathy for the storytellers because they were experiencing the story in the same way as the teller. Add the bonding power of sharing food and you have a powerful force for change.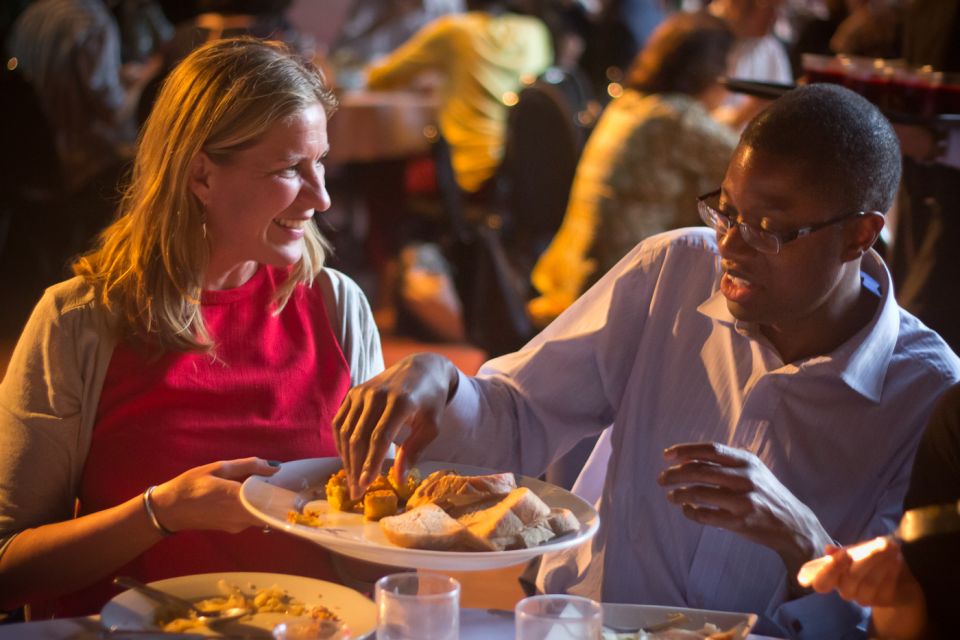 Food is a universal 'language' and, no matter our background, we all have a 'food story'. Language and food are both strong symbols of social identity, but while spoken language can sometimes act as a barrier, food is a 'language' that everyone understands. While recipes may differ from community to community, when it comes to the first meals we cooked with our mothers to growing or sourcing our produce, the themes of preparation and sharing often remain the same. Sharing these stories help to create a common bond between people of different backgrounds.
How can I help?
Please pledge and share this project with your friends and family to help us raise the funds we need! 
Featured crowdfunding projects