£25 – Where East Meets West: Journey into the Balkans with Dino Zelenika - 15th March -19:00 - Spike Island - Ticket for one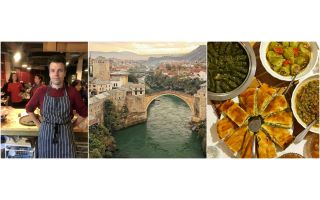 Traverse cultures through 3 courses of rich Balkan flavours, with our remarkable chef and storyteller Dino Zelenika. Dino is known as much for preparing Bosnian Filo Pastry pies, puddings and stews as for sharing the magic of his Bosnian roots.
Join us for the delectable flavours of the Balkans, where East meets West in an enchanting blend of Mediterranean and Ottoman tastes.
£25 minimum. Sorry, none left!